How We Picture a City: Venice and Google Maps
In Street View mashups, we see not just clever Photoshopping, but two cultures' ways of seeing a place.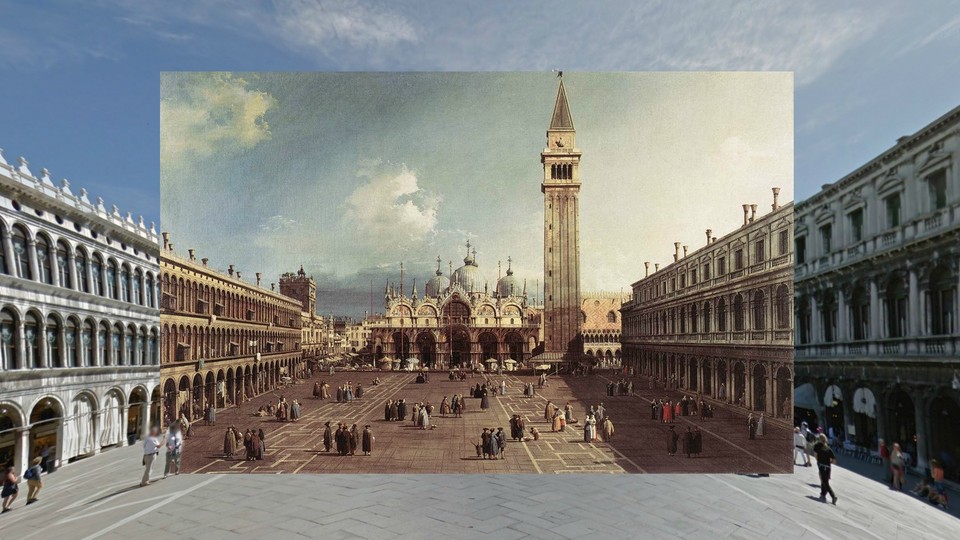 College was boring, so, in the 18th century, young British nobles skipped it altogether. They went instead on The Grand Tour, a glitzy sojourn through Europe, the gap year to beat all gap years. On their tour, the juvenile gentleman might pass through Paris, dote on Dusseldorf, or reside in Rome. All that was nice. But they absolutely had to venture to Venice.
Because, Venice! It was the home of art, fashion, culture—and, crucially, other young men on their own Grand Tour.
"The greater part of them keep an inviolable fidelity to the language their nurses taught them," Lady Mary Wortley Montagu wrote of the bros in her diary. "Their whole business (as far as I can perceive) being to buy new clothes, in which they shine in some coffee-house where they are sure of only meeting one another."
Travel to Venice and flaunt your Venice-ness, in other words. One way to parade Venice around long after the trip was to buy paintings by Giovanni Antonio Canal, who worked under the name Canaletto. A British agent named Joseph Smith hawked his work to British nobles passing through, and they bought them in the hundreds.
Canaletto's paintings were more than the I ♥ [City] posters of their day, though. They're now considered some of the great urban paintings, ever, and they distill our sense of early 18th-century Venice and London.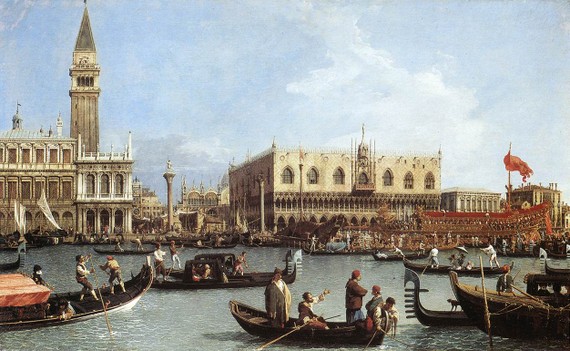 In 2013, we picture cities a little differently, with demography and photography. Cities live in Instagram, in patterns of light from space, in blueprints and visualizations and—most like Canaletto's civic landscapes—on Google Street View. We can see where we're going because the Street View car has gone there first, and we can see where the frontier is because the car has demarcated it.
Now, an artist in London has done some creative, comparative history, pairing Canaletto's Venice and London with contemporary depictions, as glimpsed by the Google van. In two, now apparently removed Imgur galleries, she placed a Canaletto image in the middle of a Google Street View image.
So here's Return of the Bucintoro to the Molo on Ascension Day, from above, within Google Street View: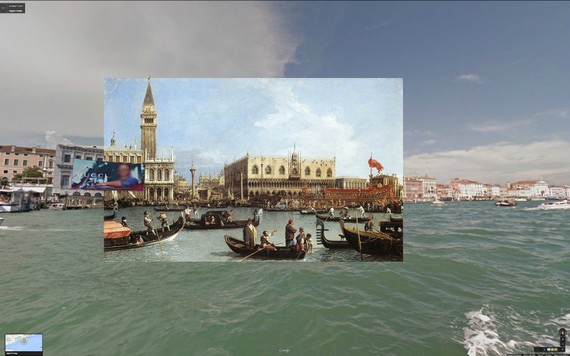 And Canaletto's Grand Canal and the Church of the Salute in its location: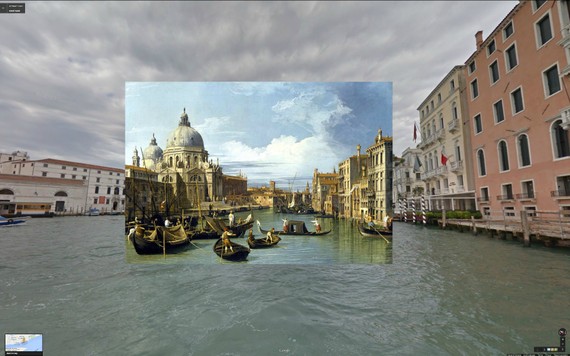 Or, in London, Canaletto's 1752 Northumberland House :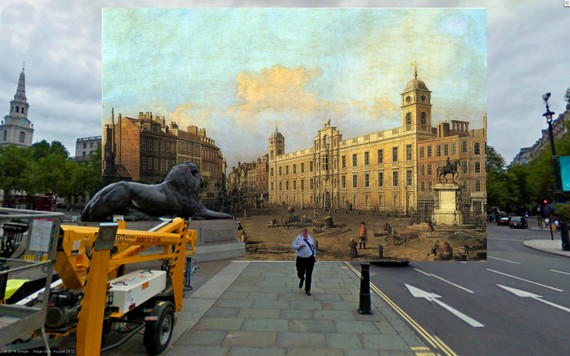 The artist Shystone (whose work is still available via Google Cache) writes:
On the South end of Trafalgar Square this huge townhouse stood from 1605 right up to 1874 when it was demolished after compulsorily purchase by Government to make way for a new road. There's a Waterstones on the corner now under an old hotel building. Although it was completely demolished, one of the original building's arches still stand, 7 miles away in East London as an entrance to a local community centre.
She juxtaposed other artist's work, too. Here's John Atkinson Grimshaw's 1885 Blackman Street London, across time and light: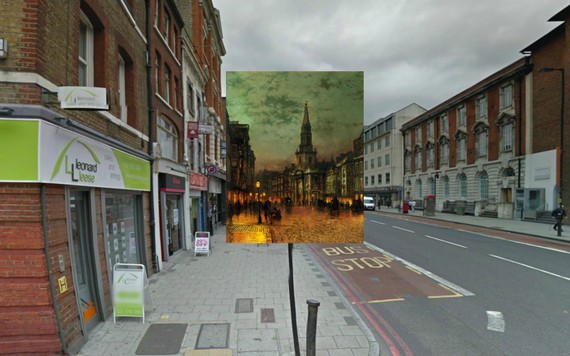 The church is St. George The Martyr. Again for any literary fans, this is the Church next to the notorious Marshalsea prison where Dickens' Little Dorrit is born. The only remains of the actual prison are tucked down an alleyway North of the church with a plaque in a small public garden. Today The Shard is the biggest spire you'll see looking North East up Borough Highstreet.