How Twitter Has Changed Over the Years in 12 Charts
Replying is dying, retweeting is up, North America isn't dominant anymore, but English is, and more lessons from 37 billion tweets.
It's been eight years since Twitter debuted. Like the rest of the social networks that have survived, it has changed, both in response to user and commercial demands. The user interface, application ecosystem, geographical distribution, and culture not what they were in 2010, let alone 2006.
But each Twitter user sees the service through his or her own tiny window of followers and followed. It's hard to tell if everyone's behavior is changing, or just that of one's subset of the social network. Now, new research from Yabing Liu and Alan Mislove of Northeastern with Brown's Chloe Kliman-Silver attempts to quantify the way tweeting has changed through the years.
"Twitter is known to have evolved significantly since its founding," they write, "And it remains unclear how much the user base and behavior has evolved, whether prior results still hold, and whether the (often implicit) assumptions of proposed systems are still valid."
While their paper is directed at fellow researchers, their results might be of interest to anyone whose ever used Twitter. They combined three datasets to come up with 37 billion tweets from March of 2006 until the end of 2013. The key thing to know is that they talk about two different datasets: What they call the "crawl" dataset constitutes all the tweets, and what they call the "gardenhose" dataset constitutes only a sample of either 15 percent of all tweets (until July 2010) or 10 percent of all tweets (after July 2010).
OK, with that caveat, here are some of their most interesting findings.
The average active user tweets about 20 times per month. That number grew a lot from (roughly) 2009 to early 2012, but then it leveled off and began to fall.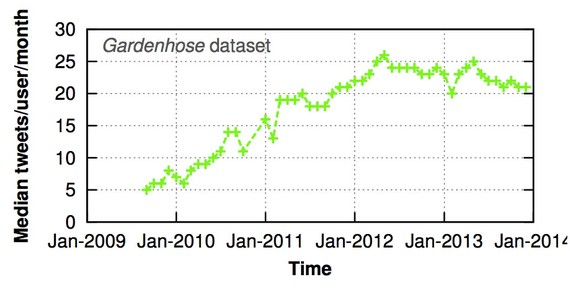 Retweeting is up; replying is down. Retweets became more frequent than replies in late 2013. (Oh, and "old-style" retweets are dead.)

About 55 percent of tweets contain a mention of another user. Only 10 to 15 percent contain a link. Same goes for hashtags. (But people who hashtag usually add more than one.)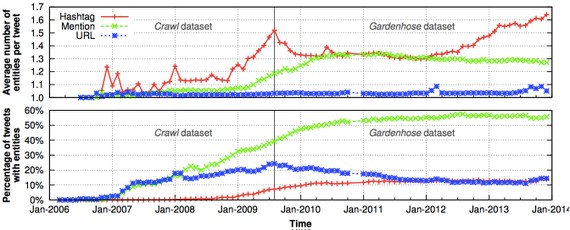 More than 50 percent of Tweets come from mobile devices. Desktop usage of all types continues to decline.

Only 30 percent of Twitter's users are located in the U.S. and Canada.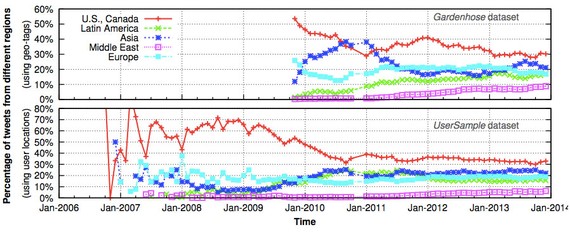 But English remains the most popular language, by far. Spanish is a distant second.

More than 30 percent of accounts are inactive. The number of inactive and suspended accounts has been growing rapidly over the last several years. 

Roughly 10-15 percent of tweets from 2009-2010 are now unavailable because people have deleted them or made their accounts private (or the account was suspended).

People don't change their handles very often.