How the Time in the Sky Differs From the Time on the Clock
Time zones are useful fictions.
My Michigander friends always mention the late night sunsets. Michigan sits north in the country and west in its time zone—U.S. Eastern—so its naturally late summer evenings fall especially high on the clock. 10 p.m. in Boston is 10 p.m. in Grand Rapids, even if the sun passed over Massachusetts long ago.
That's when you can go outside, they say, and it's bright enough to picnic.
Now, Google engineer Stefano Maggiolo has visualized what this difference looks like around the world—how solar time lags behind or marches in front of the time on the clock. It's a rare look at the rhythm of the day—measured and made uniform by technology—affects communities around the world.
Here's the map; you can see the full version on Maggiolo's blog. Red indicates that solar time follows standard time, and green indicate solar precedes the standard.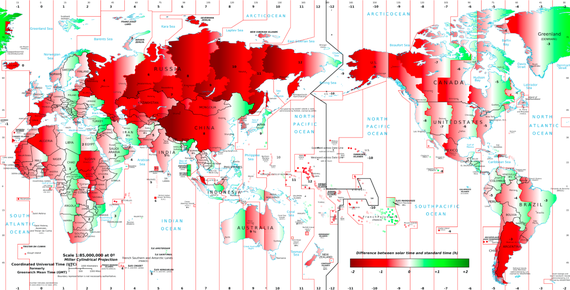 Of course, the reasons for standardization are often as sociological as they are technological—and their effects wind up redounding beyond their intent. As Joshua Keating writes at Slate, Spain standardized on central European time during Franco's reign. This, in turn, led to later schedules in Spain, and to the nation's famously nocturnal suppers.
"At the time I'm writing, near the winter solstice, Madrid's sunset is around 17:55, more than an hour later than the sunset in, for example, Naples, which is at a similar latitude," writes Maggiolo.
It was Spain's extreme offset that led to Maggiolo's writing the story.
China, too, uses a single time zone across its territory, which works for the country's more urban east but hurts the country's rural west. India does the same—to, as it happens, the opposite effect. In India's easternmost state, the summer sun can rise as early as 4:30 a.m.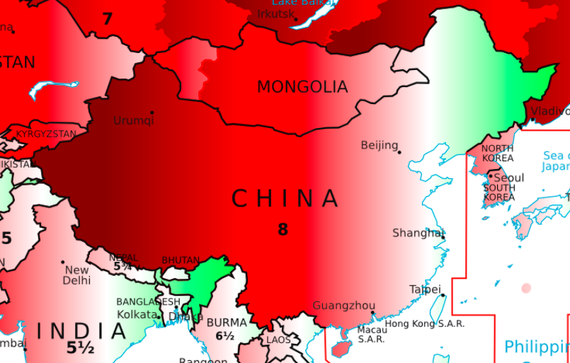 P.S. Our means of demarcating time aren't just technological, of course: Our means of measuring it are, too. The Atlantic's crack video team recently traveled to the U.S. Naval Observatory and talked to the facility's Chief Scientist. The results, I think, are worth watching: