How the Target Data Breach Went Down
And four other intriguing things: Nepalese honey harvesting, remembering Robert Ashley, old water, and Seinfeld without people.
1. This detailed investigation into how Target let hackers steal 40 million credit card numbers does not inspire confidence in the corporations who handle our Big Data.
"On Saturday, Nov. 30, the hackers had set their traps and had just one thing to do before starting the attack: plan the data's escape route. As they uploaded exfiltration malware to move stolen credit card numbers—first to staging points spread around the U.S. to cover their tracks, then into their computers in Russia—FireEye spotted them. Bangalore got an alert and flagged the security team in Minneapolis. And then … Nothing happened."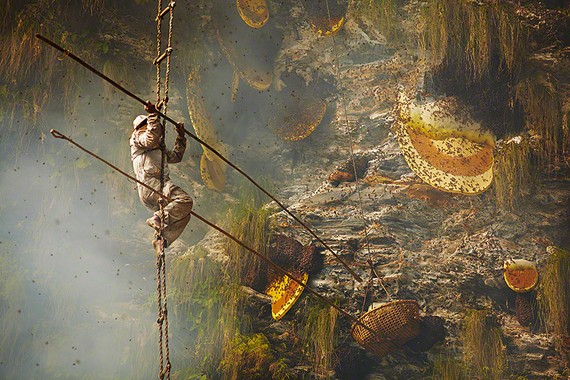 "Twice each year, the Gurung tribespeople of Central Nepal risk their lives collecting wild honey from the world's largest hives high up on Himalayan cliffs. Travel photographer Andrew Newey recently spent two weeks capturing this ancient but dying art."
3. Twenty recollections of the composer Robert Ashley, who died last week.
"I moved up to the Bay Area, enrolled at Mills. The program that Bob had created (along with 'Blue' Gene Tyranny, Maggi Payne, Terry Riley, et al) was a polar opposite to what I had experienced at UCSD. There was the dedication to experimentalism, but there was also a sense of what Bob had described as 'music as news.' And pop music was considered part of the dialogue. The Center for Contemporary Music, which housed the MFA music program, featured a room with a Moog, a room with a Buchla synthesizer, and an 8-track professional recording studio. 'Blue' Gene was the head engineer, and major musicians from the San Francisco Bay Area would come to record."
4. The high-pressure water used to fight a recent massive fire in San Francisco came from a 1913 system.
"The system delivers water to lower-lying areas from the Twin Peaks Reservoir, which is 758 feet above sea level, and the Jones Street tank, which is at 369 feet. It was designed after the 1906 earthquake and fire by Michael O'Shaughnessy, the city engineer who also designed the Hetch Hetchy water system."
5. My wife and I are still debating whether Seinfeld recut without people is brilliant or idiotic. 
"'Nothingness is even funnier without commercials!'
Scenes from 'Seinfeld' (1989-1998) where nothing happens. 
A supercut of empty shots.
A New York without people."
Today's 1957 American English Usage Tip
author. The verb to author was long seemingly obs., but has recently been (unnecessarily) revived: authored ten bills in the last decade.
Of Empty Shots, A New York