Google Goes Rafting Down the Colorado River So You Don't Have To
The first American river gets the Street View treatment as Google sends cameras down the Colorado River, bringing rapids and ridges of the Grand Canyon to screens around the world.
This article is from the archive of our partner
.
Continuing what seems like a quest to photograph every stretch of space on Earth, Google took its Street View cameras and technology down the Colorado River, the first time an American river is available for a virtual vacation.
Giving you one less reason to go outside, Google's "river view" spans 286 miles of the Colorado — that par that meanders through Arizona's Grand Canyon National Park — in their latest effort to deliver the world's far-flung, and often dangerous, places to our screens.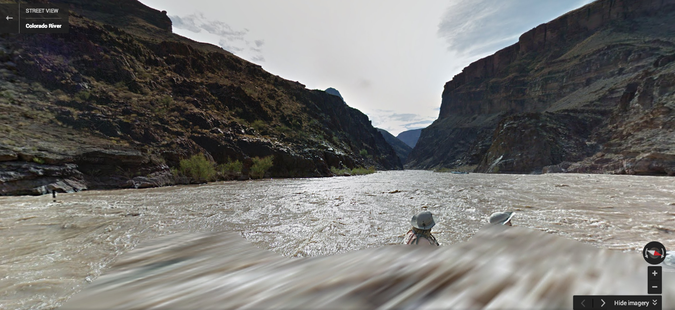 Google took an eight-day trip down the river in August 2013 and teamed up with American Rivers, an environmental non-profit, to uncover sights previously reserved for white water rafters and daring adventurers. As The Wall Street Journal's Marketwatch reports, staff attached Street View cameras to a raft, capturing panoramic views that were later stitched together. If you don't want to click down the Colorado River online, Google's time-lapse video sums up the trip quite nicely. 
Google visited the Grand Canyon last year to test out their Trekker backpack cameras, basically a walking, mobile version of their image-capturing technology.
In 2013, the Colorado River was listed by American Rivers as the most endangered river in the country, at risk from drought and increased demand for water due to climate change. The river, which serves around 40 million people and spans seven western states, is called a "lifeline in the desert" by American Rivers. Effect of the drought can be seen on the river view around Lake Mead.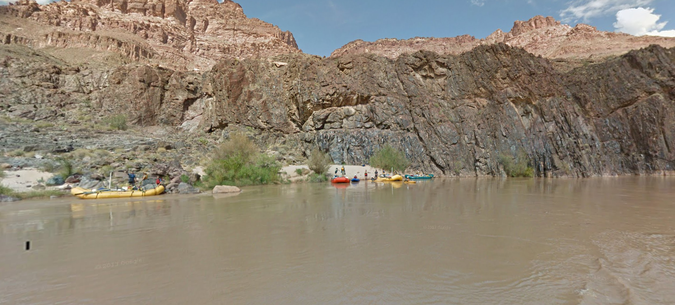 "We hope this inspires viewers to take an active interest in preserving it," Google project lead Karin Tuxen-Bettman told the Associated Press.
"It's just a valuable snapshot in time of what the river is like right now," said Amy Kober of American Rivers.
It will be interesting to see where Google goes next with Street View. They've already taken on the Antarctic and sailed down the Amazon. Street View features the Base Camp at Everest, Venice, Italy, and the Galapagos Islands. But considering Google has used push carts and snowmobiles to capture parts of the world where cars and other vehicles cannot travel, the possibilities are endless.
But despite Google giving you the ability to be transported across the earth, there's nothing like actually being there in person. Go, if you can.
This article is from the archive of our partner The Wire.