That Time Reddit Helped Identify a 14-Million-Year-Old Whale Fossil
A guy found it on a school trip. An AMA with a Smithsonian paleontologist helped identify it.
This afternoon, reddit hosted the paleontologist Nick Pyenson for an Ask Me Anything session. The occasion was the publication of a new paper in which Pyenson shared his solution to a mystery that's been millions of years in the making: What brought about the "ancient marine mammal massacre" evidenced by a "graveyard" of whale fossils found in the deserts of Chile? (Pyenson's answer: toxic algal blooms.)
During the session, a redditor, redditninemillion, asked Pyenson to do a similar bit of sleuthing—one set not in the deserts of Chile, but on a table in Washington, D.C.:
i found this bone on a field trip in middle school. my science teacher at the time told me he thought it was a very old whale vertebrae. is that what you think it is? i always kind of hoped it was a dinosaur bone...
Redditninemillion then shared a picture of the bone in question: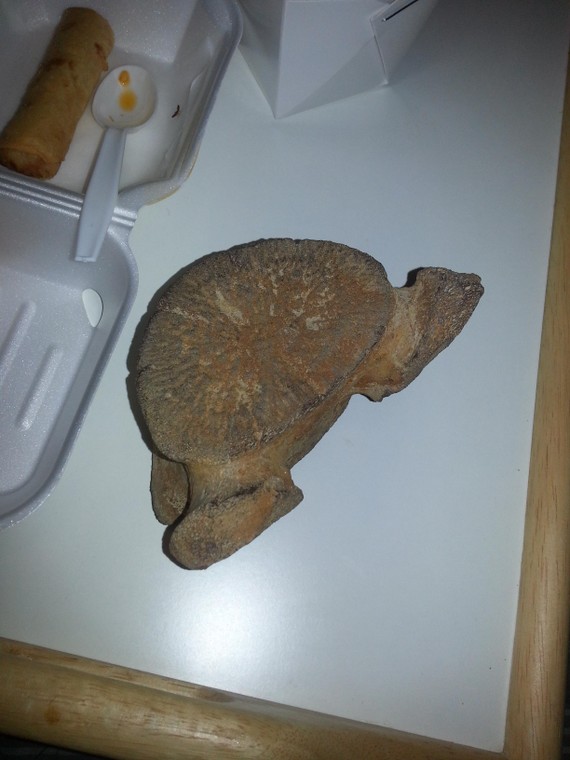 Yes, that is a picture of a fossilized bone. Sitting next to some Asian take-out. If you want to understand reddit, this image will get you about 90 percent of the way there.
Anyway, though, Pyenson responded to the query. And: affirmatively!
Whoa! That is a whale vertebra! Probably belongs to a baleen whale. It looks like its fossilized. Where did you find it?
clavert cliffs, MD. stepped on it while wading in shallow water at a beach. how old do you think it is?
Pyenson:
Oh, that makes sense. You've found a ~14-11 million year old fossil whale vertebra! The seacliffs along the coast of Calvert County have been a source of marine mammal fossils for over 100 yrs! At the Smithsonian, we have a terrific collection, but so does the Calvert Marine Museum in Solomons, Maryland. Go visit them!
Again:  You've found a ~14-11 million year old fossil whale vertebra! Which is speculation, of course—a photo posted to Imgur does not a sample make—but a nice bit of paleontological deduction nonetheless.
One other question redditninemillion had for Pyenson: "if I brought it in to the Smithsonian do you think they'd be able to tell me more about it?" 
Pyenson didn't respond to that one, but another redditor added his own bit of speculation to the mix:
Bribe him with the eggroll, he'll let you right in.