Soon to Grace the NYC Skyline: Towers Made of Fungus
A cutting-edge building material promises structures that are both sustainable and ... compostable.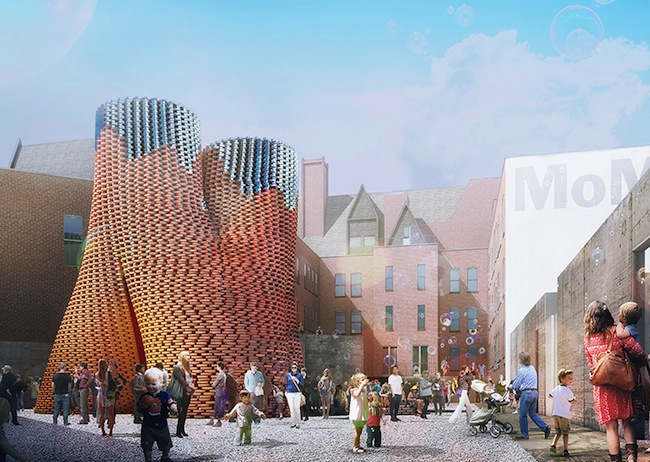 The mycelium is the vegetative network that forms the underground section of a fungus. It grows quickly, and stretches around any place that offers it space to grow. It is stringy. It is, as a network, sturdy.
It looks, in general, like this: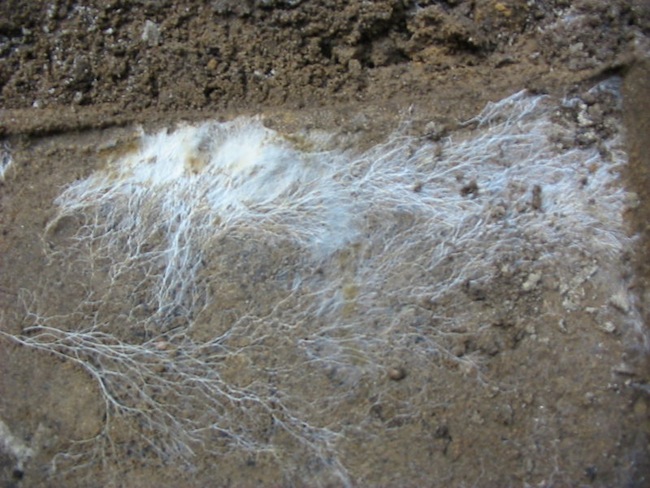 This summer, fungal mycelium will be brought—purposely—to an unusual environment: New York City. To, in particular, the courtyard of MoMA's outer-borough art and event space, P.S. 1, which each summer brings a new design to its outdoor pavilion. From that space, if all goes according to plan, will rise a tower constructed, almost entirely, of mycelium bricks. The structure—three twisted stacks that vaguely resemble merged y-chromosomes—will be a kind of proof-of-concept for fungal mycelium as a building material.
You could call this "mycotecture," as some have done ... but you could also just call it ultra-organic construction. The bricks for the P.S. 1 towers will be provided by the New York firm Evocative, which has pioneered the use of mycelium, Gizmodo points out—and not merely for building materials, but also for compostable packaging, insulation, and other products. Evocative's bricks are composed of fungal mycelium in addition to agricultural refuse like corn stocks. To make them, builders take a brick mold, fill them with the refuse, and then introduce the fungus. The mycelium grow until, after a few days, the mold has spread throughout the, er, mold—resulting in a sturdy building component. 
The bricks look like this: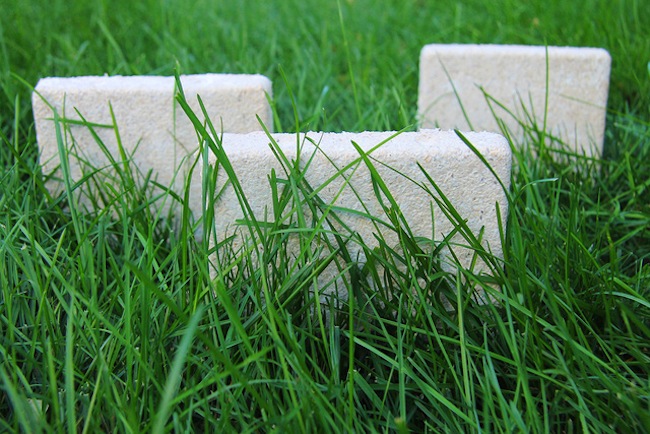 Once formed, the bricks will head to Long Island City, where they'll be used to construct P.S. 1's pseudo-smokestacks. The design for the towers comes from the Brooklyn firm The Living. And it's one that emphasizes coolness—physical coolness, that is—which is helpful, since the P.S. 1 pavilion receives much of its foot traffic in the height of summer. The design makes use of two different kinds of bricks. The bases of the twisting towers—the majority of the structure overall—will be constructed of Evocative's mycelium bricks. The tops of each tower, in turn, will be constructed of bricks made from 3M's highly reflective "daylight film."
The idea of the dual-brick construction is to draw hot air up through the tower, away from party-goers on the ground. It's also, however, to make a building that is ultra-sustainable. Overall, MoMA curators say, the P.S. 1 tower will accrue "almost no waste, no energy needs, and no carbon emissions."
And after the summer fades? The building will be, obviously, composted.