Lincoln and Darwin Were Both Born on This Date, 205 Years Ago
And they share a common linguistic gift.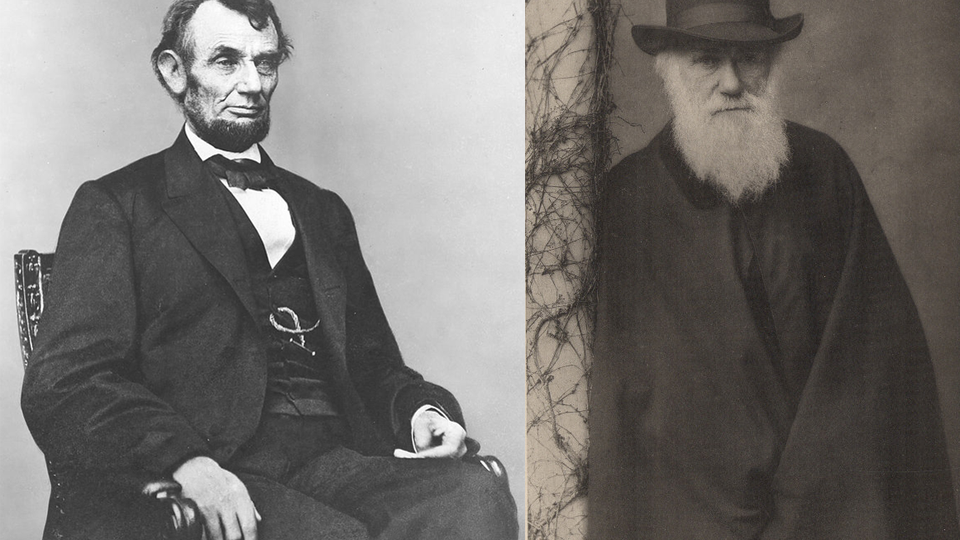 February 12 was a big day in 1809. Abraham Lincoln was born in a wild Kentucky; Charles Darwin was born in a refined Shrewsbury, Shropshire. One man held together the Union. The other developed a theory that resonates through the sciences and beyond to this day. While it's often difficult to unspool the impacts that individuals have on the world, it seems fair to say that these two minds did something consequential on this rock.
And in a 2009 essay, writer Adam Gopnik tried to get at the shared method of their influence.
"The deepest common stuff the two men share, though," Gopnik says, "is in what they said and wrote—their mastery of a new kind of liberal language."
"Darwin's work remains probably the only book that changed science that an amateur can still sit down now and read right through," he continues. "It's so well written that we don't think of it as well written, just as Lincoln's speeches are so well made that they seem to us as obvious and natural as smooth stones on the beach."
What were their precise linguistic gifts? Gopnik again:
They particularized in everything, and their general vision rises from the details and the nuance, their big ideas from small sightings. They shared logic as a form of eloquence, argument as a style of virtue, close reasoning as a form of uplift. Each, using a kind of technical language—the fine, detailed language of naturalist science for Darwin; the tedious language of legal reasoning for the American—arrived at a new ideal of liberal speech. The way that Darwin uses insanely detailed technical arguments about the stamen of an orchid to pay off, many pages later, in a vast cosmic point about the nature of survival and change on a planetary time scale, and the way that Lincoln uses lawyerly arguments about who signed what and when among the Founders to make the case for war, if necessary, to end slavery—these things have in common their hope, their faith, in plain English, that people's minds and hearts can be altered by the slow crawl of fact as much as by the long reach of revelation. Their phrases still ring because they were struck on bells cast of solid bronze, not chimes set blowing in the breeze.
If we do celebrate February the 12th as something special, it should be for this hope: "People's minds and hearts can be altered by the slow crawl of fact as much as by the long reach of revelation."
All times have probably required some version of appealing to people's "better angels." Let this be ours.