It Is Now Possible to Buy Tulips With Bitcoin
You can now exchange between two of the most famously volatile currencies.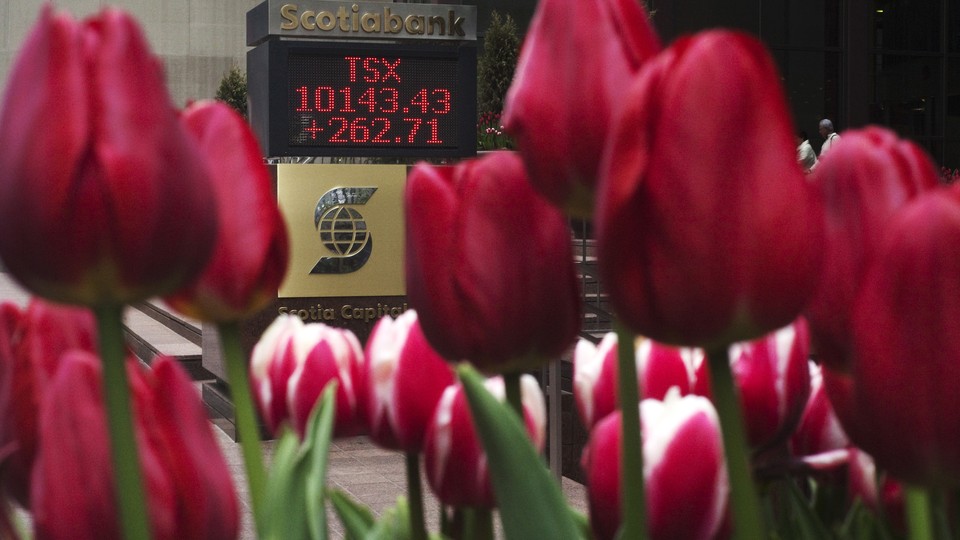 The floral startup BloomNation is now accepting Bitcoin for its products. That means it's now possible to buy floral arrangements with bitcoin—and, more importantly, to convert bitcoins into tulips, exchanging one famously volatile currency for another.
BloomNation began to accept the digital currency last week. It's partnered with Coinbase, a San Francisco-based startup that's handling the formal conversion process.
"We're setting [the price of] everything in U.S. dollars," BloomNation CEO Farbod Shoraka told me on the phone on Wednesday. It's Coinbase that converts the U.S. dollar price to bitcoin, accepts bitcoin from the customer, and pays the florist in dollars.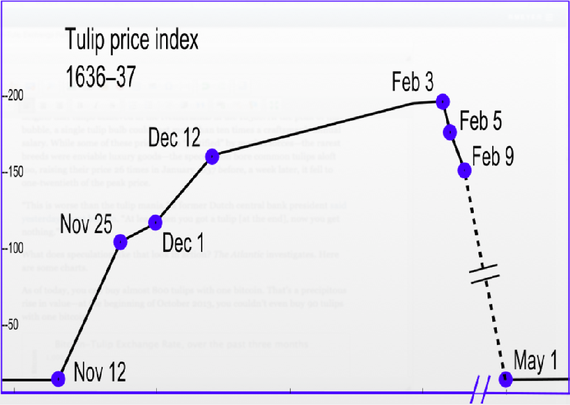 I first wrote about the Bitcoin-Tulip exchange rate in December. In the Netherlands in the 1630s, speculators pushed the price of a single tulip bulb to more than ten times a craftsman's annual salary. Tulip prices surged, then collapsed, by a factor of 20 in two weeks. The incident—called "tulip mania"—constitutes one of the modern world's first documented speculation bubbles.
"This is worse than the tulip mania," a former Dutch central banker said of bitcoin in December. "At least then you got a tulip [at the end], now you get nothing."
At the time, I estimated that a single bitcoin could purchase more than 700 flowering tulips. I also tracked that figure—the Bitcoin-Tulip exchange rate—over the previous two years, and graphed its soaring rise:
Now, my own estimate of the bitcoin/tulip exchange rate—according to a live counter at the top of that December post—shows the cryptocurrency's massive depreciation. At publication, I calculated that a single bitcoin could purchase only about 320 tulips.
Perhaps my own estimate was off. BloomNation says the exchange rate is far lower: According to the company, a single bitcoin can purchase but 220 tulips. You could also purchase 130 roses with that solitary 'coin.
Even if the exchange rate has fallen, it doesn't seem to have taken the bloom off of bitcoin buyers. The average Bitcoin customer spends $150 on the site—far more, Shoraka told me, than the average credit card-using customer. A spokeswoman for the company said there have been hundreds of Bitcoin orders since the feature rolled out 11 days ago.
BloomNation is a competitor to 1-800-Flowers and Flowers Online. It connects customers to local florists. Instead of presenting users with the "cookie-cutter" arrangements that those sites make available, each floral designer can specify the bouquets they're best at creating, and customers can order directly from the florists themselves.
Both Coinbase and BloomNation have received funding from the massive venture firm Andreessen Horowitz. Shoraka said Coinbase made Bitcoin payments possible in the first place.
"Bitcoin in general is more volatile than any other currency at this time," Shoraka told me. Only with Coinbase could they move money in and out of the currency.
The BloomNation staff isn't unused to volatility, though. According to an October 2013 TechCrunch article, it was initially funded with the winnings of a Los Angeles poker tournament.