In Sochi, Open Source Maps Beat Google's
The "Wikipedia of maps," OpenStreetMap, has bested the corporate giant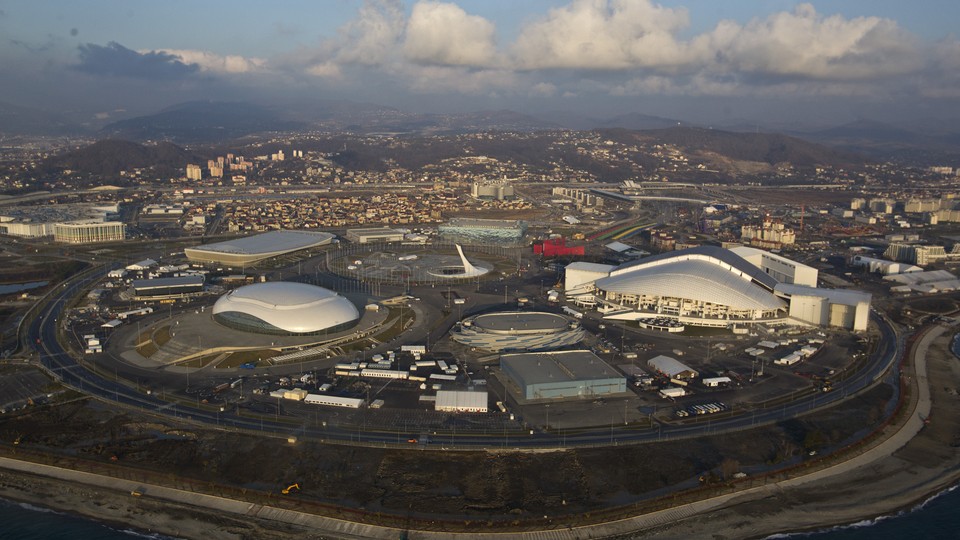 How do you find reliable information?
Back in 2005, a study in Nature concluded that Wikipedia—at the time, a free upstart just eking its way into the Google results—was about as good a source as the venerable Encyclopedia Britannica. Though it found Wikipedia had slightly more factual errors than the older reference, the study gave the website a major commendation when it needed one.
OpenStreetMap, a free-to-edit and free-to-use world map often compared with Wikipedia, received a similar—though less validated—commendation last week, when the reporter Greg Miller at Wired found that its maps exceeded Google's at describing Sochi, the home of the 2014 winter Olympics.
Miller compared not only the city but also its Olympic surroundings in the two maps. OSM, he found, often contained far more information than Google Maps, especially on features like ski slopes.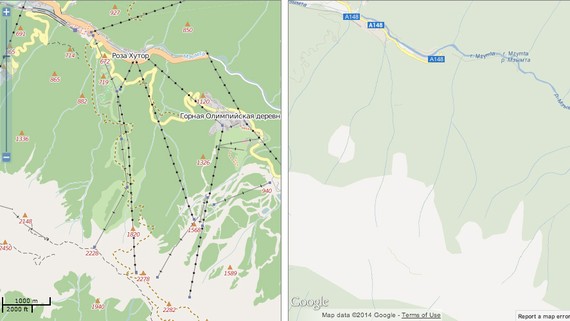 In Google Maps, the skiing pavilion isn't there at all.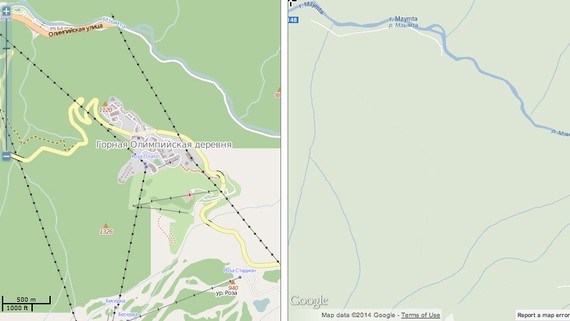 "It doesn't surprise me—this kind of thing happens all the time now," Steve Coast told me of OSM's superiority.
Coast founded OSM in 2004. He now works at the California-based company Telenav, where he helps to make OSM better for navigation software.
Mapping data in most countries, he said, is "very, very proprietary." Extremely detailed land surveys might be available, but they cost money to use, or could only be used by government-sanctioned institutions.
That creates, he said, a "gap in the availability of map data which OpenStreetMap solves."
Indeed, the high-quality data available for Sochi wasn't mapped for the Olympics. As OSM user Zverik wrote on his blog, the Olympic village had been mapped long before the opening ceremony, as part of a previous effort to add the entire area to OSM.
Unlike as occurs for humanitarian responses, Zverik wrote, "we had no mapping parties or other events targeted at mapping the region":
You can clearly see that the region was mapped mostly by [the user] agsochi […] four years ago (with 185K changes in March 2010), and then gradually updated to reflect current situation.
Zverik showed how those changes looked over time, as they were or were not made by agsochi.

"This kind of chart is typical for many regions with active mappers: someone maps everything when they first find the area, and then update it through the years," he writes. "It just happened that Olympic Games were held in a well-mapped region, not the other way around."
As Zverik points out, though, Google isn't the only for-profit online map provider. Yandex—Russia's most popular website—has detailed data for both Sochi and the Krasnaya Polyana, the site of skiing events.