Confirmed: Tinder Works in Antarctica
"She was quite literally camping in Antarctica ... and found me. It's mind-blowing."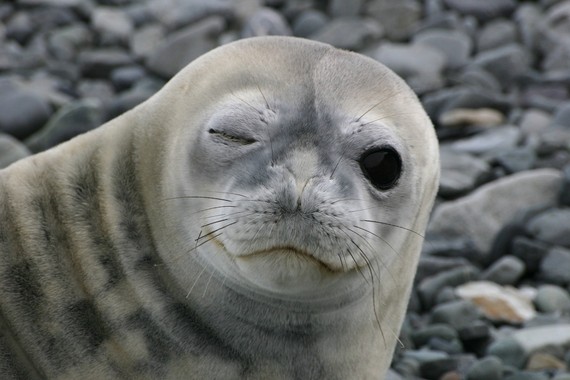 Say you're a scientist, conducting research in Antarctica. Say it's cold. Really cold. So, so cold. And lonely.
Say, though, that you've brought a valuable piece of equipment with you on your trip: your smartphone. And say that—thanks to the life you lead on your home continent—said smartphone has Tinder, the geolocation-based dating app, on it.
Well: Should you find yourself in that circumstance, you could actually get yourself a date! Yes, in Antarctica! New York magazine tells the story of a couple connected, over the snowy tundra, via Tinder. She was a researcher doing work at a deep field camp in the Dry Valleys. He was doing research, too—at the U.S.-funded McMurdo Station on Ross Island. Bored, and "just for fun," he fired up his Tinder.
At first, no matches. He extended the app's location radius.
And there she was: a match! She was far (a 45-minute helicopter ride away from the McMurdo base camp) ... and yet, in the relative sense, extremely close. They met. She was scheduled to leave the continent the day after that, so "I have yet to become the first Tinder hookup in Antarctic history," the anonymous fellow* puts it. But she'll be returning to the area, and their schedules may overlap again, so you never know. Either way, they'll both have a good story to tell. "She was quite literally camping in Antarctica, went on Tinder, and found me," he told New York. "It's mind-blowing."
It's also, apparently, the first instance of Tinder lighting its fire in the snowy expanse of Antarctica. (Tinder "doesn't keep statistics on its users in Antarctica," but the company figures that this is, indeed, its inaugural instance of polar matchmaking.) And while you could call this an example of Tinder jumping the shark orca—or of Tinder proving its value in the place that is pretty much the most desolate bar in the world—you could also see it for the other thing it is, obviously: a perfect plot for Hollywood's next big rom-com. Coming soon to a theater near you, if studio execs know a good thing when they see one: You've Got Hail. Or Four Sleddings and a Funeral. Or Parka Linings Playbook. Or, ideally: Love, Glacially.
Hat tip Chris Heller
---
*The fellow asked not to be named "out of concern that the government would revoke his Internet privileges if anyone found out he was using precious broadband to look for hookups."