All Romantic Relationships Are Digital Now
The Internet already changes every relationship.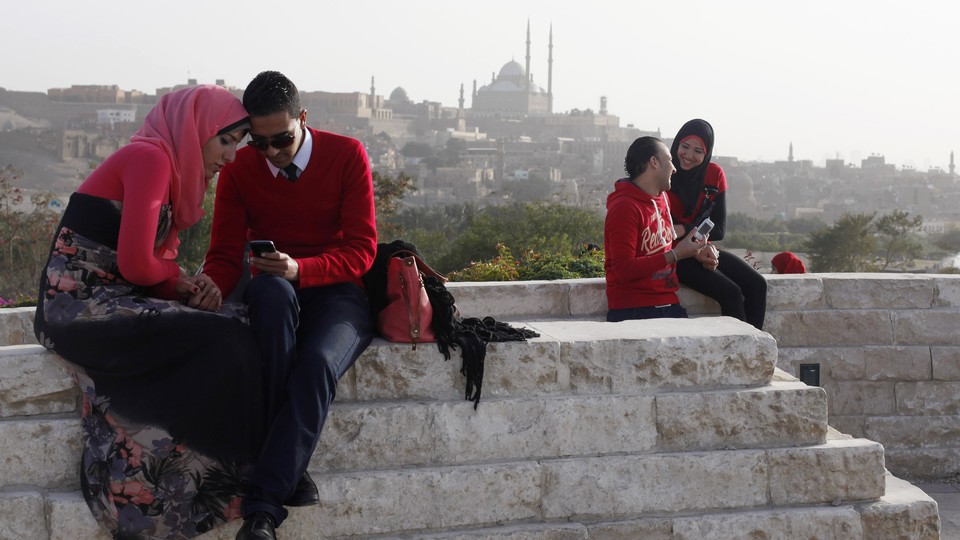 According to a new Pew Internet survey, 72 percent of Americans adults who are seriously partnered—married or otherwise—say the Internet has had "no real impact at all" on their relationship.
I have no idea what to make of this statistic (aside from its dubious usage of impact). The Pew is the primo institution for this kind of survey. It regularly queries Americans about how they encounter media and information, and its studies are well-respected and widely cited. I've drawn upon them myself.
This project surveyed 2,252 American adults on the phone, in English and Spanish, last spring. It's almost certainly statistically valid. Its numbers are sure to find their way to Op-Eds everywhere. The Pew has reported what people answered—yet I'm not sure how to report its broadest finding.
Because: 72 percent? That means almost three-quarters of Americans find the Internet doesn't affect their relationship, doesn't imbue it at all, doesn't change it. And I suppose I would take the statistic at face value if the rest of the study's conclusions weren't so specific—so moving—in what they evoke.
Because the survey reports, too, that the following is true:
"25 percent of married or partnered adults who text have texted their partner when they were both home together."
"21 percent of cell owners or internet users in a committed relationship have felt closer to their spouse or partner because of exchanges they had online or via text message."
"9 percent have resolved an argument with their partner online or by text message that they were having difficulty resolving in person."
"25 percent of cell phone owners in a marriage or partnership have felt their spouse or partner was distracted by their cell phone when they were together."
"8 percent of internet users in a committed relationship have had an argument with their spouse or partner about the amount of time one of them was spending online."
These aren't statistics we're looking at—these are scenes. An elderly man in the kitchen texting his wife, upstairs, in the attic. A young woman getting way too into World of Warcraft. A long-married, middle-aged couple in the car: one of them, silent, texting in the passenger seat; the other silently annoyed by this.
A man and a woman in different cities, both of whom went to bed angry, hashing out an argument at work the next morning over Gchat.
These statistical vignettes only get more vivid, more ubiquitous, for people around my age. Of 18 to 29 year-olds in serious relationships, 41 percent say they have "have felt closer to their partner because of online or text message conversations." Nearly the same percent "say their partner has been distracted by their mobile phone while they were together." (Only 25 percent of all couples say that.)
These little stats describe the moment-by-moment experience of relationships tinged, warped, by technology.
So I don't know what it would mean for the Internet to have an impact on a relationship. Would it mean you met through OkCupid? Would it mean you get frustrated with how much time your partner spends on their phone? Would it mean your livelihood is made possible by a globalized supply chain that depends on the Internet?
Perhaps that's overkill. But I think, upon examination, American lives—meaning American relationships—are inextricably digital. So what becomes important is to watch the specific, to recognize that, for a couple, a single thought, a single topic of conversation, may begin in physical discussion, wend through texting and Gchat, serve as a side-joke in an Instagram caption, and end back in talking. A snap may reference an old joke. A Facebook "like" may charm.
Those scenes, to me, feel like the Internet changing relationships.
So perhaps the most serious conclusion of the finding comes for people who try to think considerately and seriously about the Internet, and about how others think about the Internet. This survey by the Pew should counter our expectations. It seems many Americans anticipate—or understand—cultural change to be something that rolls in like a boulder, pushing all else aside in its path of utter technosocial disruption.
Instead, technologies—especially those as nebulous as "the Internet"—wind their way, slipping in sideways, like an ivy, a rose, or a weed.