A Gift Registry for Baby Books
A small bookstore hacks its system to prevent expectant parents from receiving 10 different copies of Good Night, Moon.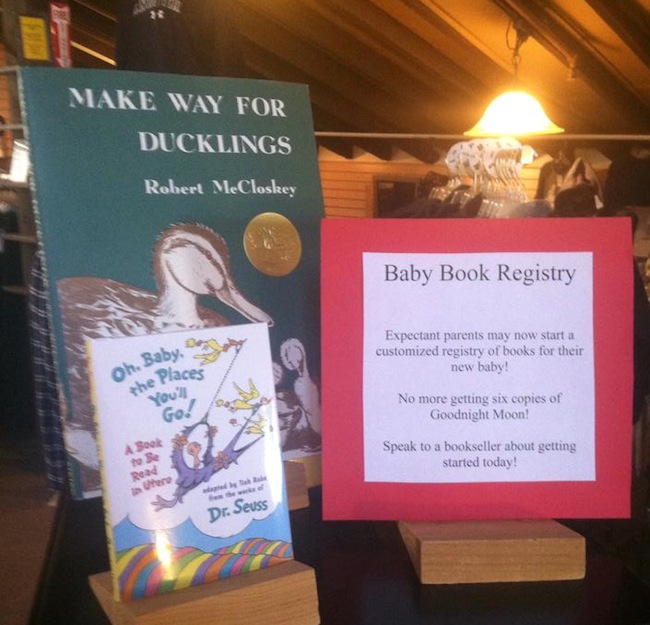 It starts the way so many minor problems do: with good intentions. Your friends or relatives have a baby; you want to give a gift that will be not just temporarily useful for the new parents, but continually so. And meaningful for the baby, too, as he or she gets older. The solution? A book—a book being, truly, the gift that keeps on giving. Good Night, Moon, maybe. Or Where the Wild Things Are. Or The Cat in the Hat. Or Make Way for Ducklings. You write an inscription in the book's blank page. You wrap it up. You give your gift. Perfect.
The only problem? There's a good chance that approximately 10 other people had the same idea you did, which means that your friends or relatives now have 11 copies of Goodnight, Moon. And, unlike other duplicate gifts, none of these copies can be returned—because, of course, well-meaning gift-givers like you have inscribed them with thoughtful personal messages.
The people at the
Andover Bookstore
in Andover, Massachusetts think they have a solution to this problem: a baby-book registry. Which is exactly what it sounds like. Expectant parents can register for the books they'd like to include in their kids' libraries, and gift-givers can buy the books relatively confident that theirs will be the only offering of
The Very Hungry Caterpillar
 or
The Cat in the Hat
that makes its way into the collection.
As the store explained it in a recent email to customers:
Parents-to-be can email us with their name, due date, and date of the shower, and we will create a custom account for your baby! Including a list of books you are hoping to receive will allow us to stock those books, and give the list to your friends when they come in — all they have to do is let us know whose registry they are shopping for! Our computer system will tell us if someone has already bought the same book under your registry, so there is no need to worry about duplicates!
The Andover Bookstore was founded 1809, and (after Bethlehem, Pennsylvania's Moravian Book Shop) it's the second-oldest continuously operating bookstore in the United States. It's full of plush couches and fireplaces.
​It regularly hosts poetry readings. 
"
People who lived here years ago come back to visit," it says of itself, "and say that this is one of the few places in town that hasn't changed." The Andover Bookstore, in other words, is not the first kind of establishment you might associate with a practice that has generally been the province of the department stores and Targets and Amazons of the world.
But the registry resulted, actually, from a hack. A bookstore-y kind of hack. The store, Chantel Coughlin, its manager, told me, built its book registry on top of the software it uses for its loyalty program. 
"If you're in our frequent buyer program," Coughlin says, "we pull up your account, and we scan your books in, and you get points toward your sales." And the system "will automatically tell us if you've read a book before." The system, they realized, could be jury-rigged into a registry. So they figured they try it as an experiment. 
The registry is new—about two weeks old—but Coughlin says that people have responded well to the idea so far.  And "
we're hoping that it'll be something that'll take off and be a really popular thing," she says.
She also—being a bookstore manager—notes that the existence of a registry need not preclude customers from requesting multiples of the same book. "Ki
ds break books," she says, "so sometimes it's okay to have that second copy."