5 Intriguing Things: Friday, 2/14
A noise revolution, DNA tests for Native Americans, news as replacement for literature, Maschineangst, and a solar milestone.
1. Making noise as a political act.
"The Symposium on Obfuscation will bring together experts from a variety of backgrounds who study, script and design technologies that either simulate, detect, or are susceptible to obfuscation. By obfuscation we mean the production of misleading, ambiguous and plausible but confusing information as an act of concealment or evasion. In the course of the day, we will critically explore and assess the use of obfuscation as a strategy for individuals, groups or communities to hide; to protect themselves; to protest or enact civil disobedience, especially in the context of monitoring, aggregated analysis, and profiling in (digital) space."
2. The availability of DNA tests is forcing Native Americans to ask hard questions about lineage, culture, and political autonomy.
"Which members of tribal communities are most affected by the use of DNA tests?
We have a lot of adopted children in our communities. That's a result of the Indian Child Welfare Act, which gives enrolled tribal members the first right to adopt Native American children. The forcible out-adoption of native children used to be part of US policy, so the Act was a way of keeping children in our communities and close to their culture. I think we should enrol adopted children as well biological children. I would also like to see us go back to enrolling spouses. We should look at it as citizenship. Countries allow for immigration and have laws that deal with naturalisation of new citizens. I think tribes should do that too.
So tribal identity is about culture as well as biology?
I want to be careful with the argument that it's culture versus biology; it's also political authority versus biology. We have debates amongst ourselves about whether being Native American is about being a citizen of your tribe – a political designation – or about culture and traditional practice. I tend to come down on the side of political citizenship. It's true that it's about much more than blood – culture matters. But our political autonomy matters too, and that helps produce a space in which our cultural traditions can thrive.
Do genetic tests that claim to prove Native American ancestry worry you?
I worry about the way Native American identity gets represented as this purely racial category by some of the companies marketing these tests. The story is so much more complicated than that."
3. A provocation: news is replacing literature as the key terrain for ethical discourse. 
"In the postwar period, a generation of critics, inspired by Lionel Trilling, encapsulated the difference between high art and popular art in a single word: 'complexity.' 'Literature,' Trilling wrote, 'is the human activity that takes the fullest and most precise account of variousness, possibility, complexity and difficulty.' Henry James, Austen, Coleridge, and Shakespeare ('King Lear' was the pinnacle of Trilling's qualities), not to mention modernists from Proust to Kafka, from Woolf to Celine: their books are sanctuaries of anti-closure and infinite perspective, of right and wrong mashed together and dissolved. Following the endless turbulent commentary on Dylan Farrow and Woody Allen, and the commentary on the commentary, you could be forgiven for feeling that literary art, as Trilling defined it, has been largely displaced by life—or, at least, by the pictures of life ceaselessly produced by the all-powerful media—as the realm in which we lose ourselves in a moral problem."
+ Or perhaps it has always been so, only now we generate a permanent, searchable record of our parsings.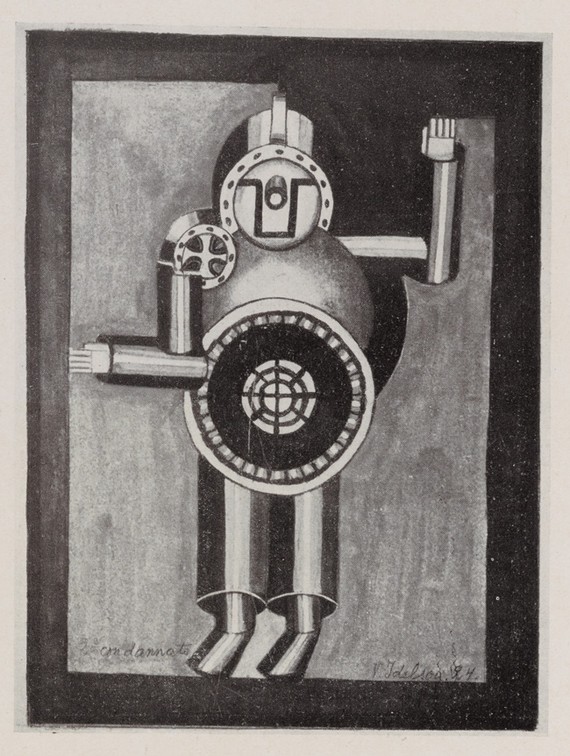 4. Set design and costume illustrations for the Italian futurist play, Maschineangst.
"This play made it into English—as The Anguish of the Machines—in the anthology Robots, Robots, Robots (Boston: New York Graphic Society, 1978). Naturally, I'm investigating that anthology! There's an academic article about Vasari here and an Italian blog has discussed the play. Vera Idelson (1893–1977) doesn't turn up in many search results. Here's a 1937 costume design."
5. The Ivanpah solar power plant is open for business. Now the question is if more solar thermal plants will follow. 
"Less than a hundred miles from the rim of the Hoover Dam, just outside of Las Vegas at the edge of dusty San Bernardino County, sits a symbol of how the sun will some day provide copious amounts of electricity for entire cities. This is Ivanpah, the world's largest operating solar farm, which uses 347,000 mirrors (173,500 heliostats) and three huge 450-foot towers to harness the sun's heat to generate electricity.
As of the beginning of this year, it's a mere symbol no longer. After more than seven years of development, over three years of construction, 2,700 workers, and $1.6 billion in U.S. government loan money, the massive solar farm is finally live and sending enough solar power into the grid to power 140,000 (average American) homes...
Solar panels are actually the elephant in the room when it comes to a technology like Ivanpah's. Over the seven years that it took Ivanpah to get permitted and built, solar panels are now at their cheapest time in history, and large solar panel projects are being built at scale, too. Solar thermal projects needed to provide something extra to compete at cost with both solar panel projects and fossil fuel power plants.
While Ivanpah might be the first of its kind, it represents the emergence of a solar power technology that can reach the kind of scale that a coal or natural gas plant can. Distributed solar panels on rooftops are disruptive to be sure, but in the near term utilities are looking for large power sources that can help them meet their mandates and that operate 24/7, like fossil fuel plants do."
+ This is the end to the Luz/BrightSource story I told in my book in chapters 14 and 27. In a real way, this project can trace it roots back to mainframe word processing software and the utopian dreams of 1970s kibbutzim.
Today's 1957 American English Usage Tip:
apophthegm. Brit. usage prefers this spelling and the pron. ă'pofthĕm; US apothegm (which was more usual in Brit. until Johnson). The shorter form conceals the derivation, a Greek word meaning something clearly spoken, a terse saying. It is roughly synonymous with aphorism, maxim, but the word is not a popular one.
I can't imagine why! (I couldn't type it correctly and I was looking at it on a page.)
Robots, Robots, Robots