'This Machine Surrounds Hate and Forces It to Surrender'
Pete Seeger and the banjo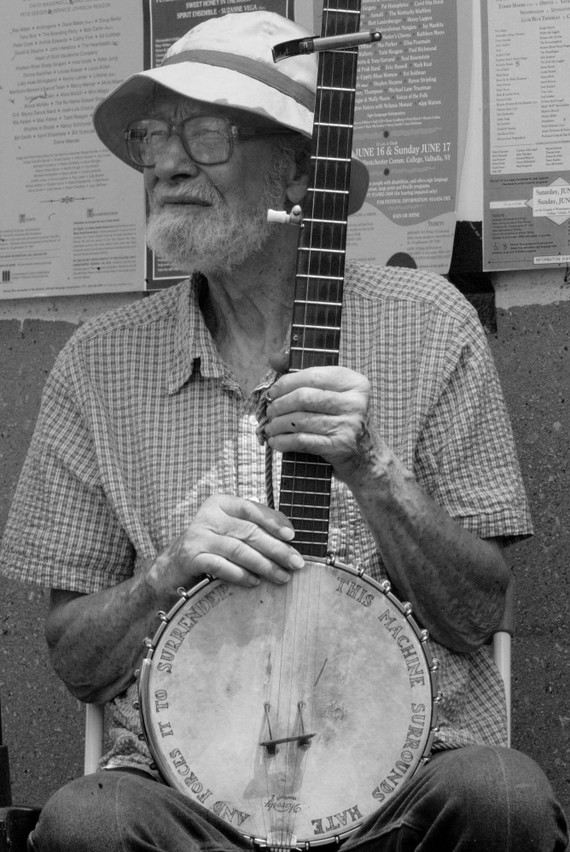 When I think of Pete Seeger, who passed away early this morning at the age of 94, in my mind he is never empty-handed. Always, always, always, he carried with him his banjo.
He was just 27 years old when folklorist Alan Lomax asked him about his odd choice of instrument in an interview.
"Hello there, Peter," Lomax says.
"Howdy," Seeger replies.
"Mighty nice music you're making, Pete."
"Oh, I'm just warming up."
"What's that funny looking guitar you're playing?"
"Oh this isn't a guitar. This is a banjo," says Seeger.
"Well tell me: Is the banjo something new?"
"New? It's about as new as America is."
And age wasn't all that the banjo and America have in common. The banjo is an instrument whose history reflects the nation's: It was born in slavery, gained popularity on the minstrel stage, and, eventually, in Seeger's hands, turned against its own past, becoming a "machine [that] surrounds hate and forces it to surrender"—at least, that was the proclamation written upon its head.
Seeger himself first fell in love with the banjo at age 16, when he attended a folk festival with his father in Asheville, North Carolina. At the time, the banjo was thought of as a "white" instrument, the province of poor Appalachian farmers. But, as Seeger explained in the interview above, the banjo hadn't always been that way. "You see," Seeger tell Lomax, "American negro slaves made the first real banjos, a couple hundred years ago, out of ol' hollow gourds and 'possum skins I guess."
In fact, banjo historian Greg Adams told me, the banjo was first created by enslaved Africans in the Caribbean in the 17th century, a New World take on traditional West African instruments. The first North American reference to a banjo dates to 1736 in New York City, but most of the earliest references to American banjos come from the Chesapeake region. Generally speaking, Adams says, the banjo's spread followed slavery's.
It was in the 1830s and '40s that white Americans started picking up banjos too, often in the context of racist minstrel shows, imitating slave life through the appropriation of slave instruments. The first white banjo performer, Adams explained, was Joel Walker Sweeney, a blackface minstrel performer, who was taught to play by African-Americans around Appomattox, Virginia, in the 1830s. It was through minstrelsy, Adams says, that "the banjo crossed over from vernacular traditions into American popular music and popular culture."
From there, the banjo's popularity continued to grow, flourishing both in a variety of genres at home—ragtime, vaudeville, early jazz, early country, bluegrass (led by the inimitable Earl Scruggs)—and abroad, particularly in minstrel performances.
It's in the folk revival in the middle of the 20th century that Pete Seeger took the banjo and transformed it. "The banjo in the hands of Pete Seeger becomes this iconic representation of community and social justice and social awareness," Adams says.
How did he do that? How did Seeger take an instrument—one with no inherent properties of justice, as evidenced by its history—and assign it a new cultural value?
There is no way to answer this but to observe the rarity of a force like Pete Seeger upon the Earth.
Sure, the banjo has a jaunty, inviting sound. Sure, it can be played in a variety of ways, making it suitable for a range of musical genres. But these qualities did not prevent it from being a prop of racist entertainment. They did not make it a symbol of community. They did not transform it into a "machine [that] surrounds hate and forces it to surrender."
That was the work of man. One man, really.
Seeger's banjo now resides at the Rock and Roll Hall of Fame in Cleveland, Ohio, where he donated it following an ill-fated attempt to sell it on eBay to raise money for Haitian earthquake relief. After watching bids climb to unimagined heights, Seeger canceled the auction. No machine to surround hate and force it to surrender should live in a private living room of a fancy home, after all.