The Illusion That Makes It Sound Like a Pitch Is Constantly Rising
Discovered by the same people who brought you the modern computer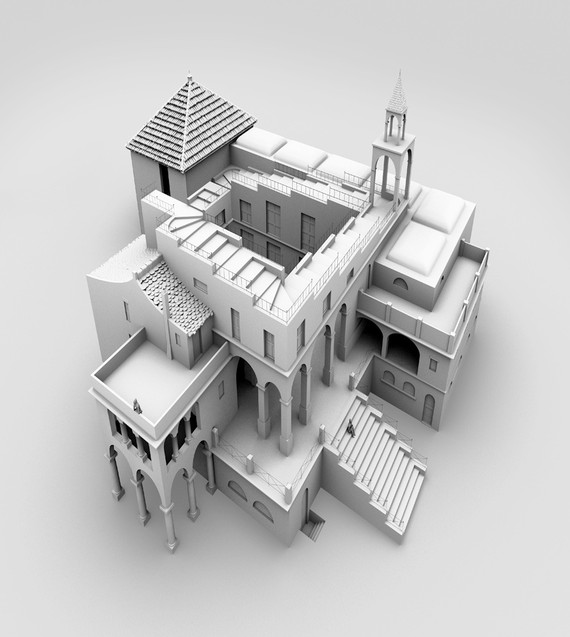 I just found Meara O'Reily's tremendous and long-running Tumblr of audio illusions. At the top is one of my favorite aural phenomena: The shepherd scale.
You can listen to an example here:
The Shepherd scale gives the sensation of a continuously rising or falling pitch. In the example above, the pitch seems to fall. It's the aural equivalent of the Penrose stairs (which you might recognize from an Escher drawning).
It sounds like that, at least. In fact, the "rising tone" is just the cycling between a limited set of tones, each separated by an octave. Roger Shepherd discovered the Shepherd tone in 1967 at Bell Labs, the same New Jersey laboratory that gave humanity the transistor, the laser and multiple major operating systems and programming languages.
It's one more example, if a superficial one, of the deep connections between technology and culture. The shepherd scale—a fluke of human cognition—was bequeathed by the same facility that gave us many components of modern computing.
The tone series can be deployed effectively as a storytelling illusion. In The Dark Knight and the Dark Knight Returns, sound designers used the Shepherd scale to help the idea of the Batmobile come to life. As Richard King, the films's sound designer, told the Los Angeles Times:
The basic idea is to slightly overlap a sound with a distinct pitch (a large A/C electric motor, in this case) in different octaves. When played on a keyboard, it gives the illusion of greater and greater speed; the pod appears unstoppable.
But the scale isn't merely a gimmick: Musicians can use it in surprisingly effective ways. In Bar Xizam, a 2007 choral work by the composer Abbie Betinis, a hummed Shepherd tone wafts up behind the words of the Persian poet Hâfez. I saw Bar Xizam performed in a massive stone church in downtown Chicago, on a snowy night three years ago. On an audience that didn't know what to expect, the effect more than mesmerizes—it seems holy.