Snowden and the Blizzard Made a Latin Word Suddenly Very Popular
A newsworthy, 2,000-year-old pair of syllables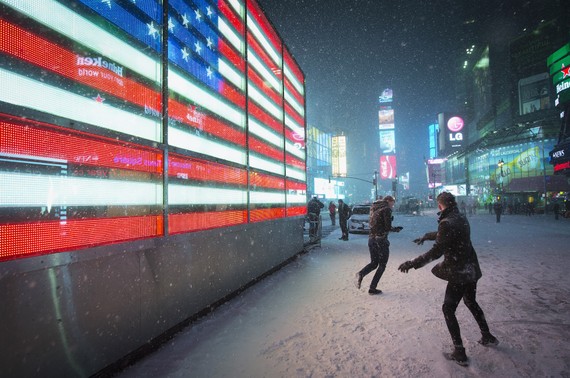 Peter Sokolowski is a lexicographer and editor-at-large at Merriam-Webster. This means, perhaps most importantly, that he has access to their trend data. Sokolowski can see, ahead of anyone else, which words more people than usual are searching for in the company's online dictionary.
Today, he noticed a confluence:
A rare etymological-meteorological-political coincidence: lookups in 'clemency' spiking from Snowden and 'inclement' spiking from snow.

— Peter Sokolowski (@PeterSokolowski) January 3, 2014
Folks were looking up inclement: Sokolowski guessed it was a result of the massive snowstorm that just blew through the northeast U.S. And people were consulting the definition of clemency, too, just as journalists and politicians have called for clemency for Edward Snowden.
Both words turn on that same root, -clement: The former adopts the negative prefix "in-" and means "stormy" or "un-mildly wet"; the latter is its noun form and means "mercy." Both words hail from the Latin clemens, meaning merciful, mild, moderate. Roman society, too, emphasized the noun of clemens, clementia. It meant "forbearance," and even "humanity." Julius Caesar made it a theme of his regime—and now it's politically relevant again (or, perhaps, as it always is), as our journalistic-political-meterological community has used it.
It's a pleasing confluence, if a random one. These two sounds in one word, traveling in the language for over 2,000 years, have now achieved a certain kind of popularity again. It's one of those little societal micro-trends we only know about it because our references are networked, because the ambassadors of that information—like Sokolowski—think to share it.