Planet Hillary! How The NYT Magazine's Crazy Cover Came to Be
The potential 2016 presidential candidate went from Earth mother ... to moon ... to fleshy planet.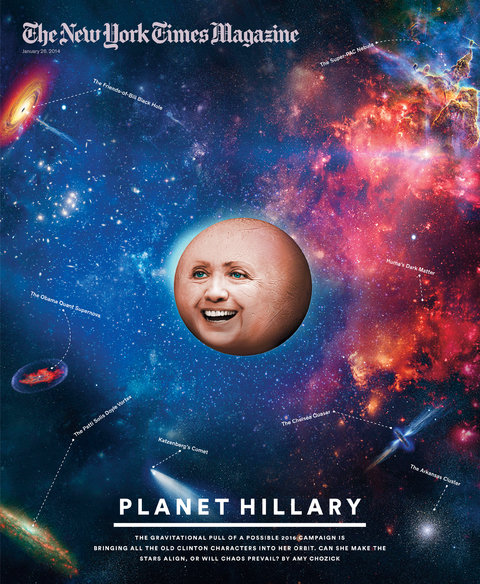 The New York Times magazine that launches tomorrow features a cover story called "Planet Hillary." The story is about the people in Clinton's orbit, the sociopolitical universe that surrounds her. The art for the issue's cover is, accordingly, cosmic in nature. It features, as one write-up put it, "the former FLOTUS/Senator/Secretary of State as her own faceplanetball"—with, as another had it, "her disembodied head fashioned into a fleshy planet." The whole thing, as the Huffington Post put it, is "FREAKING US OUT." 
The cover—seen in preview form via a tweet from the Times's David Joachim—has been called everything from "very bizarre" to "a legitimate dadaist masterpiece" to "…Um." It has been photoshopped and modified and meme-ified in all the ways you'd expect (Biebs! Miley! Good Night, Hillary-Moon!), and in some ways you would not (the Teletubbies Sky Baby!). In response to all this, Buzzfeed put up a post called "17 Things That The New York Times Magazine 'Planet Hillary' Cover Looks Like." The Awl published a lengthy treatise on the astronomical inaccuracies contained within it. 
The point is that, love it or hate it or simply find yourself totally baffled by it, the cover is resonating—in an urgent and interactive way that magazine covers, unless they involve sexism or terrorism or creepy breastfeeding, generally do not. Despite and because of all that, the otherwordly art has also left many wondering: What? Why? 
To find out, I got in touch with Arem Duplessis, the Times Magazine's design director, who gave me a bit of additional back story. Here's how the Times Magazine occasioned its own webby little version of the Big Bang.
***
The planetary theme of the cover was pretty much a given, Duplessis told me, since "the working headline from the very beginning was 'Planet Hilary.'" The whole thing started with this: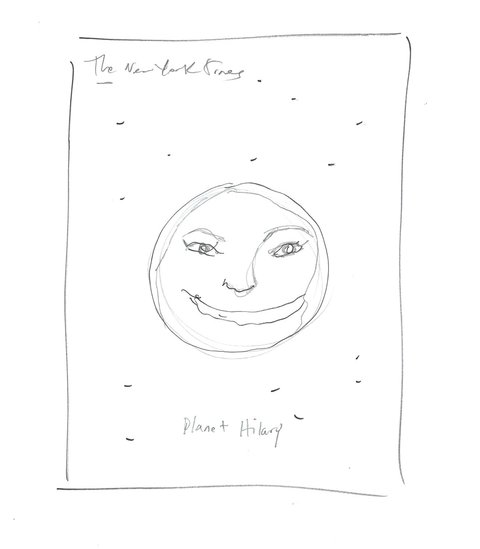 The general idea, the thinking went—because planets—would be a winky tribute to Georges Méliès and his Le Voyage dans la Lune. The team wanted theatrics. They wanted humor. Duplessis called in the illustrator Jesse Lenz to bring that vision to life. They ended up with this: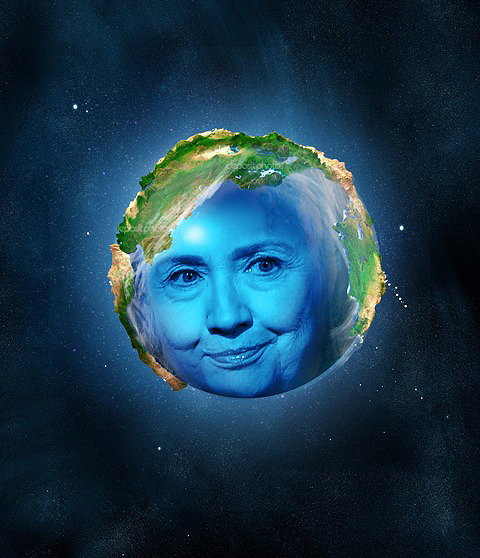 This "certainly had the humorous element I was looking for," Duplessis says, "but the land mass making up the hair felt forced to me. It needed to be simplified."