International Fugitive Is 'Everlastingly Grateful' the 'Worst Software on the Planet' Is No Longer Named After Him
BREAKING: Eccentric millionaires are eccentric.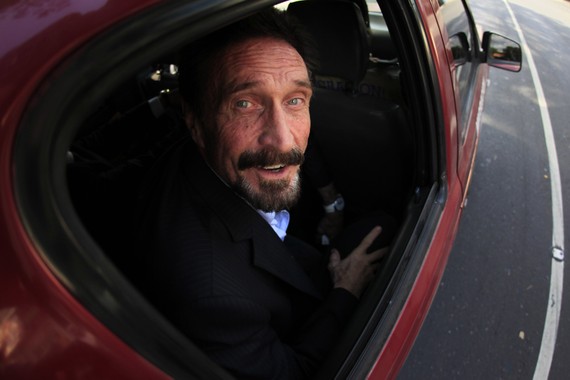 You might know of John McAfee, Anti-Virus Guru. In 1987, he fought viruses with software and distributed that software to personal computers. It was the first time anyone had marketed anti-virus PC software as shareware, and it made him rich.
You might also have heard, however, of John McAfee, International Fugitive. Wanted by the government of Belize for questioning in relation to a murder trial in late 2012, he secretly escaped to Guatemala where he was met by a crew from Vice. He faked a heart attack and got deported back to the United States. He has still evaded Belizean authorities.
On his official YouTube channel, his sole title is "Eccentric millionaire."
In 1994, McAfee cleared out of the security business. McAfee Security, his old company, was purchased by Intel in 2011—and, now, Intel has announced its stripping away the last public evidence of McAfee, Anti-Virus Guru. At the Consumer Electronics Conference in Las Vegas, the chief executive announced that it would be renaming its subsidiary: McAfee Security has become Intel Security.
Was McAfee upset? Hardly. He responded as only an International Fugitive could.
"I am now everlastingly grateful to Intel for freeing me from this terrible association with the worst software on the planet. These are not my words, but the words of millions of irate users," he told the BBC.
"My elation at Intel's decision is beyond words."