How to Pack a Telescope (for a Trip to Space)
A tangled Webb will unfurl itself outside of Earth.
In October of 2018, the James Webb telescope will launch into space, where it will travel beyond the moon to peer, as NASA puts it, into "the beginning of time." The Webb, all in all, is roughly the size of a tennis court. And it is, as space telescopes generally are, packed with tools and instruments that will allow it simultaneously to orbit the sun and to seek (NASA again) "the unobserved formation of the first galaxies."
But you can't very well launch a telescope with all its assorted gadgetry—mirrors, solar arrays, gyroscopes—into space as-is. Instead, you have to pack it all up, strategically. And then deploy its tools once the object has made its forceful departure from Earth.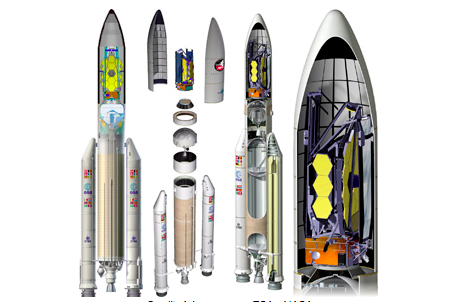 The video above, just released from by NASA's Webb Telescope team, illustrates the precise process that will take place, if all goes according to plan, when the Webb launches. You can think of the telescope as a kind of origami object, folded into an Ariane rocket like so many paper cranes. You can also think of it as a kind of butterfly, folded into a cocoon—and ready to spread its wings in space.
The whole thing is both extremely nerdy and oddly poetic. Instead of a caterpillar turning into a butterfly, it's an object turning into a tool—one that will unfurl and unfold and survey the sky.