How Not to Embarrass Yourself on Snapchat: The Millennial Guide for Olds
Trying to stay with it, old man? The TV network of your childhood has some etiquette suggestions for you, straight from the mouths of babies.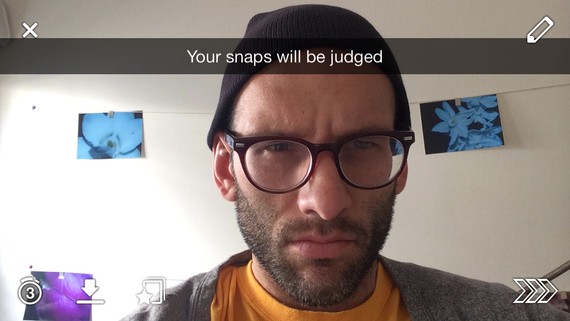 MTV has a research team. They try to figure out what the kids are up to these days.
And one big thing the kids are up to is Snapchat, the picture messaging smartphone app. As you probably know, a sender's snaps (as they are known) disappear 1-10 seconds after a receiver opens them. That ephemerality is what differentiates Snapchat from other ways to send someone a picture or text or text-on-a picture, of which there are many iterations.
Many adults have been puzzled by Snapchat's popularity and have assumed, with some anecdotal evidence, that it was all about the sexts. Because what else would you do with a self-destructing photo app but send pictures of yourself naked to other people?
Turns out, kids are creative and they do all kinds of stuff with Snapchat, as MTV research discovered when they asked a panel of kids about their snapping habits. But all creative acts require some limitations, and already, a set of conventions around snaps exist. Take, for example, these eight tips for not embarrassing yourself on the platform. 
The "Snapchat-iquette"

Snapchat your crush first, text later. A group Snapchat is often an ice-breaker to one-on-one Snapchats, which are icebreakers to texting (where more "real" conversation happens). "It's kind-of weird to text someone random, but you can Snapchat someone random and it's seen as friendly," Ellen, 19, explained.
Don't overdo selfies to people who aren't your best friends.
Selfies are best if they are raw, funny and awkward … unless to your crush. Millennials tell us about adjusting lighting, hair and makeup. Kayla, 17, says she used to spend eight minutes getting ready for a Snapchat to her now-boyfriend.
Don't send too many Snaps in a day, especially to a crush. You'll look stalkerish.  One panelist capped it at "5 per day."
Be careful when you open videos in public. You have no idea what they contain.
Don't open a Snapchat immediately – again, this depends on the desired relationship you are looking to cultivate.  N/A if it's your best friend. Definitely important if it's your crush.
Snapchat can offer a great opp to get status updates exes, crushes and exes' crushes. One college student notes, "I see my exes watching 'My Story,' which creeps me out, but is also flattering."
If you are out with other friends and Snapchatting, make sure not to send to an uninvited friend.
Several thoughts shake out from this list. One, Snapchat fills a niche between nothing and texting. It's a test balloon for relationship development. Two, the point is to not necessarily to be spontaneous, but to appear that way.
And three, no matter what structure you put teenagers' communications in, they will find a way to create byzantine rules of behavior. If you give them a variable that can mean something, they will use it to send messages. Ergo: don't open a Snapchat immediately. Don't send more than 5 snaps per day. Don't overdo selfies. Do get yourself did for a snap to a crush.
Snapchat has a dominant culture now, at least among teens, and what one does will be judged according to its standards.
Update: Just to be clear, the millennials in this equation are MTV and me, not the Snapchatting teens. The kids are whatever that next generation down will be called once millennials have been sufficiently pummeled.