App Usage Exploded in 2013, Except for News and Magazine Apps
Which plodded along, but ultimately lost ground in the race to control the distribution of content.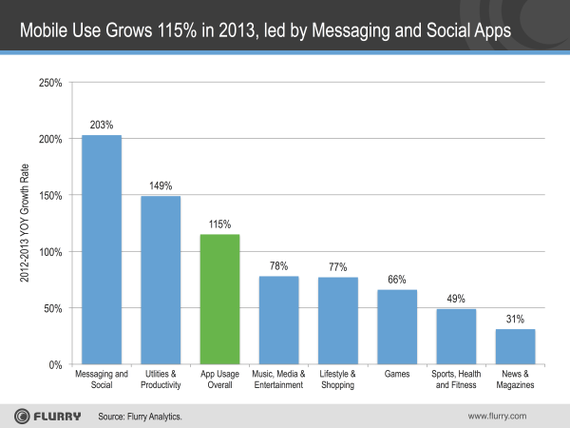 If mobile is eating the world, as analyst Benedict Evans contends, then journalism should be worried.
The app analytics firm Flurry put out a new chart showing the year over year growth in app usage among various categories. Messaging and social apps continued to surge, as did productivity apps. Even games, which consumed an enormous amount of time already, continued to grow at a rapid clip.
But take a look at the shortest bar in the chart: News & Magazines. Media companies have spent so much time and money generating apps, but they just aren't working. Sure, they're growing, but far slower than the rest of the mobile world.
One mitigating factor is that many social apps rely on links to news and magazine websites. So, at the individual story level, journalists are probably doing better than this chart shows.
But apps were a chance for media companies to wrest at least partial control of the distribution channel back from Facebook, Twitter, and Reddit. At least according to this chart, and general observation of the industry, exactly the opposite is happening.