5 Intriguing Things: Wednesday, 1/22
Sperm smuggling in Gaza, Google Bus protest dioramas, permaculture design, Jeopardy archivists, and paperwork's relationship to the soul.
1. The logistics of smuggling sperm out of a Gaza prison.
"How could the semen be taken out of the prison, as Israel doesn't allow physical contact between the prisoners and their families? And how could the sperm be kept alive for at least six hours, the time needed for families to return to Gaza after the visit?
An Israeli decision to allow children under the age of eight to go behind the glass boards and hug their fathers enabled Tamer and Hana's scheme to succeed. Two of Hana's brothers are also jailed in Rimon prison with Tamer, and one of them has kids. So Farid's son, Rami, tossed a box containing his brother-in-law's sperm into his son's jacket during one of the visits.
At Erez checkpoint between Gaza and Israel, which is open only to international aid workers, some Gaza journalists and businessmen and desperate humanitarian cases, Hana was waiting impatiently for the sample.
'I felt time is ticking quickly,' she recalled. Dr Abdel-Kareem Hindawi, a gynaecologist at the Gaza-based Basma IVF Center, told Al Jazeera the sperm was still alive and in excellent condition when he received it. The doctor and his colleagues began processing the sample and the insemination went smoothly."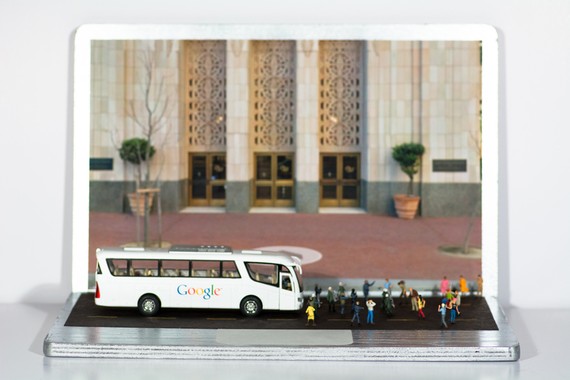 2. Artists create miniature Google Bus-protest dioramas in their series, The The Streetviews of San Francisco. Their artist statement is bot-written. 
"COLL.EO's works are a drawn reflection upon the art of media art itself. By exaggerating certain formal aspects inherent to our contemporary society, COLL.EO often creates work using creative game tactics, but these are never permissive. Play is a serious matter: during the game, different rules apply than in everyday life and even everyday objects undergo transubstantiation. By merging several seemingly incompatible worlds into a new universe, COLL.EO uses references and ideas that are so integrated into the process of the composition of the work that they may escape those who do not take the time to explore how and why these images haunt them. You have been warned."
3. Wilson Miner's cinematic cri de coeur: designers must change the processes through which they create digital products.*
"We're beginning to recognize our own monocultures as the short-lived efficiencies we extracted from them begin to unravel. The premise that we can design for a manageable number of combinations of screen sizes, platforms, contexts, and devices is quickly eroding. The diversity of variables in our ever-changing digital environment demand thoughtful systems designed around principles durable enough to outlast increasingly brief cycles of obsolescence.
When we start with the assumption that optimizing for rapid, unbounded growth is a goal, we immediately narrow the possibility space. There are only so many choices we can make that will get us there. The same choices that made annual monoculture and the shopping mall the most efficient engines for short-term growth and profit are the same qualities that made them unsustainable in the long term.
There are more ways to scale than growth. There are more ways to deepen our impact than just reaching more people. What if we put just as much effort into scaling the impact of our work over time? Can we build digital products around sustainable systems that survive long enough to outlive us, that are purpose-built to thrive without our constant cultivation?"
4. A crowdsourced archive of Jeopardy episodes. 
"The J! Archive is created by fans, for fans. The Jeopardy! game show and all elements thereof, including but not limited to copyright and trademark thereto, are the property of Jeopardy Productions, Inc. and are protected under law. This website is not affiliated with, sponsored by, or operated by Jeopardy Productions, Inc."
+ Slate's in-depth feature about the self-appointed archivists.
5. Paperwork is to information what the body is to the soul. Or it was, in Victorian times. 
"In this way, newspapers and periodicals played a part in the emerging and increasingly dominant understanding of information in the period. Just as information was being defined as an immaterial commodity, able to be communicated without deformation, the press appeared to offer a way of structuring information, granting it both material form and social presence. Many scholars have identified the nineteenth century as the period where the modern concept of information was consolidated. This was information as self-evident, immaterial, portable, reproducible and able to reside in any form of media without deformation. The discursive foundations for this understanding of information were established in the eighteenth century, but it was with the demands of industrial capital that information came into its own. A number of information-gathering initiatives by the state – the census, civil registration, income tax – were complemented by the development of elaborate bureaucracies as companies struggled to manage their works.
Beyond the developing civil service, the largest were in the post office and railway companies, organizations that specialized in moving things. In George Eliot and Blackmail, Alexander Welsh claims that the value of information lies in its moment of use, so there was an imperative to store it up and make it ready for recall. As the value of information is difficult to judge in advance, it exerts material pressures of storage and management. The industrial age was built on paperwork and the resultant bureaucracies were a frequent source of satire, not least for Dickens. Information might be pure spirit, allowing power to operate at a distance, but it depends on doing things with paper, and so is always in a way fallen. Novelists, engaged in paperwork of their own, were particularly attuned to the potential for paperwork to fail, for the crucial document to be misplaced, or the body of paper to take on a life of its own and exert itself, like Krook's shop or Harmon's mounds, against those that would seek to master it."
Today's 1957 English Language Usage Tip
amateur. Pron. ǎ'matūr or -tûr; it is high time that vain attempts at giving the French -eur should cease, since the word is in everyday use.
* Wilson delivered this essay to me in person a few months ago. This is how he edits, walking through the argument live with people, seeing what notes, ideas, and revisions they have. I'm glad it is in print now; I've only been able to link to it in my mind.
It Depends on Doing Things with Paper, And So Is Always In a Way Fallen