Twitter Attackers Pacified With Lyrics From Broadway Musicals
Some fans of the English soccer team Tottenham Hotspur thought they were threatening the its recently sacked manager, Andre Villas-Boas. But it turns out @AVB is woman named Ashley Van Buren, and her response was perfect.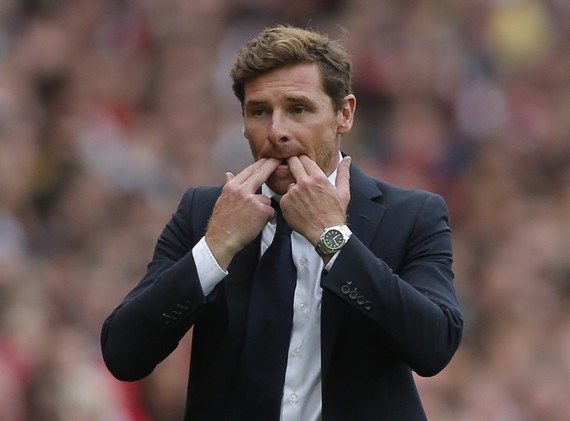 Ashley Van Buren has been called some pretty nasty things this week, many of which are unprintable in a family-friendly publication such as this one. But suffice to say, she has seen it all, including many people telling her to die.
Fortunately for Ashley Van Buren, no one has any problem with her. Rather, the name-calling and death threats were intended for Andre Villas-Boas, former manager of London soccer club Tottenham Hotspur, a person who does not have the Twitter handle @AVB. You see where this is going.
On Sunday, the club suffered an embarrassing, blowout loss. "The 5-0 loss to Liverpool on Sunday was brutal—the worst at White Hart Lane in, I think, more than 15 years—and that followed a 6-0 drubbing by Manchester City a few weeks ago," local Tottenham enthusiast J.J. Gould told this reporter.* Angry supporters took to Twitter to vent their frustration to Andre Villas-Boas.
Only ... they ended up venting their frustration to Ashley Van Buren, aka @AVB.
Van Buren says that she first noticed the @AVB confusion back in 2011, when Villas-Boas was with Chelsea. But recently it's gotten hostile.
"I started to get just really nasty, mean tweets, sometimes even death threats meant for him and his family," Van Buren told the soccer podcast Men in Blazers. "At first I didn't know what they were, and then I realized, sort of increasingly, what it was about, and that it was a lot of drunk British people mainly."
Things got so bad that Van Buren turned to the Tottenham Hotspur press agent, asking them to send out a tweet advising fans that @AVB was not Villas-Boas. But she never heard back.
"So, finally, this past Sunday when I saw all of that go down and and I saw all these mentions in my feed, I thought, you know what, I'm going to have some fun with this. And what do drunk people like more than singing? And I thought, what's the weirdest, most incongruous thing I could do? And it was musical theater lyrics."
The result was a delightful juxtaposition of hot-headed sports fanaticism and cheeky musical theater, complete with hashtags.
The response was a hit with at least one fan. "It's genius," says Gould. "The assumption that AVB is on Twitter, of course with the handle @AVB, and the direction of all this crazy invective to that handle, it's, like, a multi-layered absurdity. I defy anyone to imagine a better response than tweeting back musical-theatre lyrics."
On Monday the club sacked Villas-Boas, putting an end to @AVB's fun—at least, that is, until the next club hires him. Van Buren, for her part, is doing what she can to help him land a new gig.
---
* NB: Gould is also The Atlantic's executive editor.
Update: Van Buren's tweets were not all, it turns out, in a spirit of reconciliation. Thanks to commenter Viva_Verdi for pointing out that the lyric "You'll never walk alone" is a provocation for Spurs fans, particularly after a loss to Liverpool. Over Twitter, Van Buren informs me that the jab was intentional. "Someone tweeted me to let me know that early on, and clearly I had to use it," she said.