Thomas Pynchon Could Have Met a Spy in the Virtual World Second Life
And here I thought virtual worlds were all about cybersex.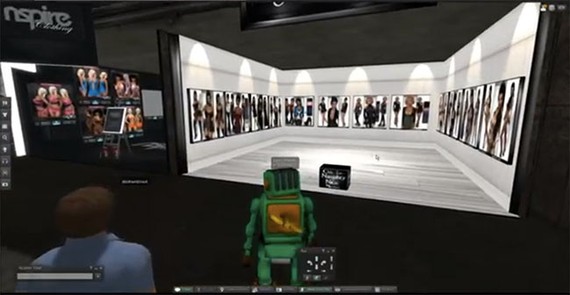 If you've read Thomas Pynchon latest novel, Bleeding Edge, and played around in the virtual world Second Life, you will come away convinced that Pynchon spent time in SL.
And today, a new document leaked by Edward Snowden and reported by ProPublica show that spies from the nation's intelligence apparatus also spent time in Second Life (and massively multiplayer online games like World of Warcraft).
In fact, there were so many spies "hunting around in Second Life," the document noted, that "a 'deconfliction" group was needed to avoid collisions."
Second Life's chief technology officer, Cory Ondrejka, even gave a presentation at the NSA. (He's now the director of mobile engineering at Facebook.)
According to ProPublica, the spies were "created make-believe characters to snoop and to try to recruit informers, while also collecting data and contents of communications between players." In one case, GCHQ, the British equivalent of the NSA, "vacuumed up three days' worth of Second Life chat, instant message and financial transaction data, totaling 176,677 lines of data, which included the content of the communications." They also, apparently, aided in the takedown of  a London-based "crime ring that had moved into virtual worlds to sell stolen credit card information." The investigation was helped by an informer inside the virtual world.
All of which sets up the intoxicating possibility that Thomas Pynchon could have been wandering the three-dimensional digital hinterlands when he encountered a CIA operative, perhaps in Second Life's Syn City, "an adults only realistic urban city inhabited by people who have come looking for a fresh start. From bikers to mafia to city workers, you will find a place to belong here—but beware as some things may not appear as they seem."
Man, and to think I thought realistic virtual worlds were all about cybersex! It turns out they were actually places where cyberwarriors and cybersleuths went to develop signals intelligence.