The Year in Facebook: Pope Francis, Royal Baby, and Harlem Shake
Facebook releases its annual list of the most-talked-about topics among its billion users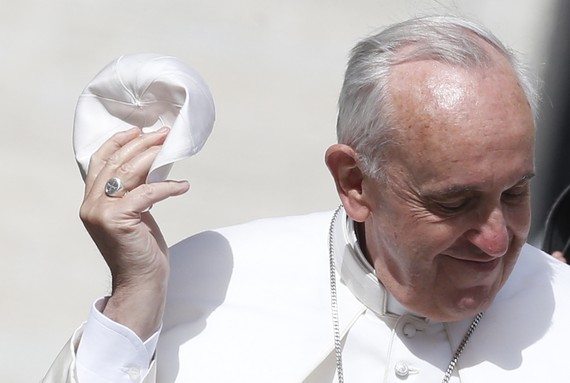 What makes something especially shareable online?
It's well-known. It's well-regarded. It's a little surprising.
It's a subject, in other words, like ... the Pope. And, indeed, according to a release from the company itself, Facebook users talked more about Pope Francis than anything else this year.
His Holiness outperformed some other universals: floods and typhoons, political elections, and the Harlem Shake.
Facebook has released year-end reports like this for years now, though the company has spent the past few months framing itself as the home of news discussion across the web. 2012's most discussed topic around the world was just as newsy, if a little more acrimonious: It was the U.S. presidential election.
Facebook's not the only company to highlight its trends. Many web companies release year-end data about the most popular topics, going back at least to Google's zeitgeist report in 2001. ("Nostradamus" was the fastest rising query that year, with "pokemon" suffering the fastest decline.) Companies now release trends data much more often than annually: In October, Foursquare used its data to guess at how the federal government shutdown had changed drinking habits in Washington, D.C.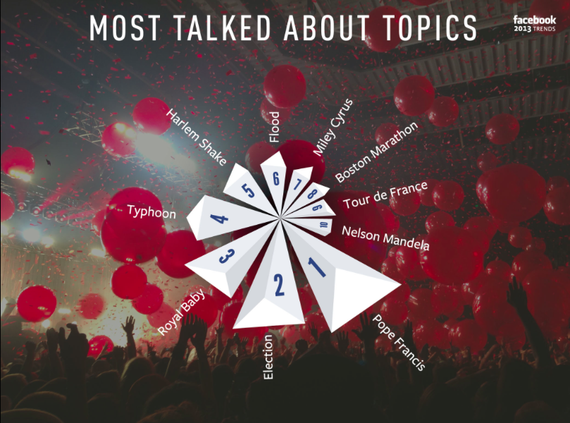 This year, Facebook users around the world also discussed Nelson Mandela, who died last week but who had been ailing since the spring.
The company broke out the data by country. The results are sometimes delightful: While India talked most about the candidates for the 2014 elections; Canadian astronaut and space photographer Chris Hadfield was oft-discussed (and presumably beloved) in Canada.
In the United States, meanwhile, the most discussed topic was—what else?—the Super Bowl. Notably absent from any nation's list was a topic that would seem to interest most Facebook users, since it involved them: The NSA and its revealed practices of widespread surveillance.