The Wrong Kind of Ethanol Boom
A new study finds that higher blends of ethanol could cause explosions in nearby buildings after a spill.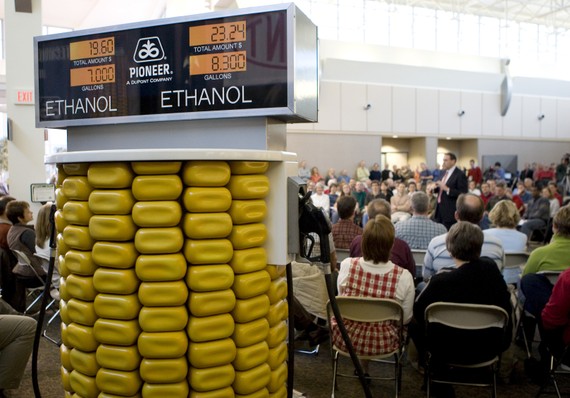 Most of the controversy over blending low-carbon ethanol with gasoline revolves around the impact on grocery prices as more farmland is converted to grow corn for fuel not food. Now a Rice University professor has discovered a more explosive complication: The more ethanol you add to gasoline, the higher the risk that toxic fumes will seep into buildings and ignite in the event of a fuel spill.
In a study published this week, Professor Pedro Alvarez ran computer simulations of what would happen after an ethanol fuel spill near an building with a cracked foundation. He found that if the spill contaminated groundwater, methane vapors from the ethanol and toxic benzene from the gasoline could seep into a building.
That wasn't a problem for ethanol blends of five percent or less, a ethanol quickly degrades when exposed to oxygen and bacteria absorb the resulting methane as well as the benzene. But Alvarez discovered that when blends rise to between 20 percent an and 95 percent ethanol, the ethanol and gasoline separate into two plumes as they travel underground after a spill. The resulting methane then rises and can seep into buildings through cracks along with the benzene, which is a human carcinogen.
"The problem is bacteria that eat the methane use up all the oxygen, and the ones you want to degrade benzene can't do their job because they don't have any oxygen left," Alvarez said in a statement.
While that may stave off an explosion from the methane, it exposes residents of the building to benzene.
Alvarez's computer simulations found that ethanol pooling as far as 43 feet below a building could cause benzene levels to rise significantly inside the structure.
The study comes as the United States Environmental Protection Agency has pushed for increased production of ethanol to lower greenhouse gas emissions from burning gasoline. Most ethanol in use currently is a five or 10 percent blend.