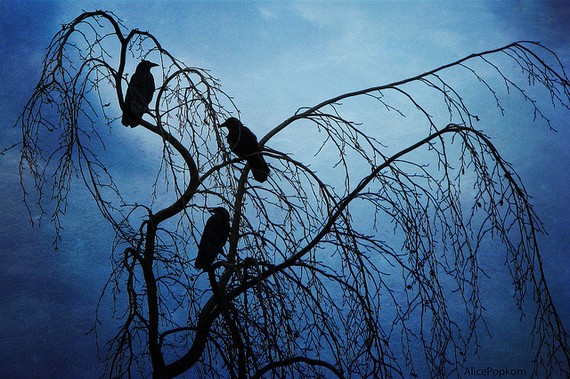 Once upon a database query, while I pondered weak security,
And many avenues of access via backdoor,
While I nodded, nearly napping, suddenly there came a wiretapping,
As of some one gently sniffing, sniffing at our server's door.
"'Tis some hacker," I muttered, "tapping at our server door
Or just a virus, nothing more."
Presently my fear grew stronger; acquiescing then no longer,
"Spy," said I, "truly your secrecy I deplore;
But the fact is you're wiretapping, and so quietly you came tapping,
And so faintly you came tapping, wiretapping at our server's port,
That scarce was sure I'd detected you—and when I opened wide the door; —
a National Security Letter, speak nothing more.
"Deep in our network you were peering, long I stood there wondering, fearing,
about the emails we never thought were shared to read before;
But the silence was unbroken, until a leak by some kid named Snowden,
And the only words there spoken were the whispered words, 'no more'
This he whispered, and the people murmured back the words, 'no more!'
Merely this and nothing more.
Open wide he flung the spying, when, with many companies denying,
In there stepped a federal Agent saying, 'but….the war!.'
Not the least apology made he; not for looking at your IP;
But, with secretly approved authority, connected to our server's port—
An NSL that lets them watch our server's port—
Connected, they watched, and spoke nothing more.
But the Agent, sitting directly in the network, spoke incorrectly,
"Precedent! Misunderstanding!", as if in denial he could hide.
"Nothing to see here" then they uttered—more denials that they stuttered—
Till I scarcely more than muttered "Other governments have also lied -
On the morrow you will deny this, as if it was not possible that you spied."
The Agent only said, "Classified!"
And the Agent, never quitting, still is sniffing, still is sitting
Across the network, never satisfied;
And the spies do all the scheming of an agency beyond redeeming,
While leaks throw their ugly story open wide;
Never mind the programs they denied,
Quoth the Agent: "Classified!"