The Best, Most Stunning, Jaw-Dropping Space Station Time-Lapses of All Time, Ever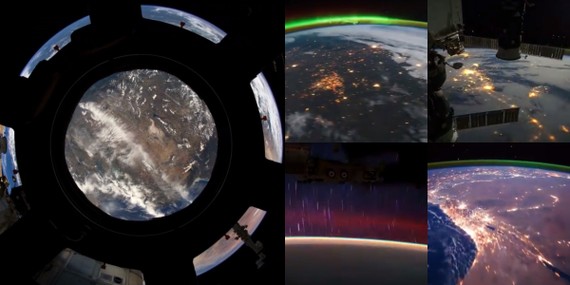 We live in an age of space-image abundance. Sure, NASA may not be able to continue running its existing missions, but, guys, we have more space photos and videos than we know what to do with.
Well, actually, we do know what to do with them: love them, unreservedly. In a fast-moving world, on a fast-moving Internet, space rises up above the snark, the cynicism, and the inanities. They are little oases of sincerity amid it all.
But how do you sell space in a headline?
This is a pretty tough question for your run-of-the-mill space story, but it is especially difficult for one genre in particular: time-lapses of the Earth from the International Space Station. There are so many of these little videos, and they are all so beautiful. How can you ever convey to the Internet audience, in just a few little words, why they should click on any given one?
With adjectives, of course. And not just any adjectives, but serious adjectives. For these little videos, the Internet brings out its big guns.
For starters, check out this quintessential time-lapse-from-ISS headline,  from Mashable:
Speaking for myself, this was an honest headline. I am both stunned and astonished. I don't know which feeling is more intense, but there is definitely a lot of both.
But I have not yet dropped my jaw. Thankfully, Phil Plait has just what the doctor ordered:

"Unless you are actively giving CPR to an accident victim at this very moment," Plait writes in his post on the video, "drop whatever you are doing and watch this stunning, mind-blowing time lapse video of the Earth at night, taken by astronauts aboard the International Space Station."
I was not giving anyone CPR, so I watched that video, eight times.
And there are more, more, and more ridiculously wonderful videos paired with ridiculously enthusiastic headlines. (NB: Many of these headlines are from a pre-Upworthy era. They are the natural, evolutionary result of the competition among websites for clicks.)
For example, this one is "insane":

And this one is "awe-inspiring" (I mean, what is space even for, if not for inspiring awe):

#whoa is right! 
These stunning, astonishing, jaw-dropping, and awe-inspiring time-lapses are all very impressive. But it wasn't until this week that, finally, we reached peak ISS-timelapse headline.
From our friends at Gizmodo:

I mean, it has a freaking comet in it! A comet. It is, as its title says, the best (yet).
And, of course, we here at The Atlantic are not immune to the majesty (and/or traffic bounty) of a good old-fashioned Space Station time-lapse, made whole by a truthful, totally over-the-top headline. 
For example, from yours truly:
(I dig the music in that one, from British band The xx.)
We've also had this one, which we pronounced was "probably as close as you'll get to being an astronaut"; and this one, which  was "beautiful," "dynamic," and "gorgeous"; and who could forget this promise, from October of 2012:

Just one more ... at least until the next truly stunning, humbling, profound, and breathtaking video of our planet from space comes around.
See you again next week.