Six Degrees of Seven Barefoot Canadian Kids
On a sunny day in 1938, seven siblings sat atop a split-rail fence. More than seven decades later, a hunt across the Internet identified who they were.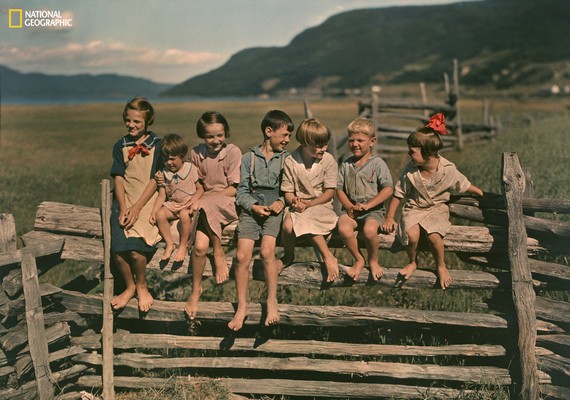 One sunny day in 1938, seven siblings, tanned and barefoot, sat upon a split-rail fence as a photographer, Howell Walker, snapped their picture.
More than seven decades later, on November 20, 2013, National Geographic's assistant photo editor, Janna Dotschkal, came across that photo in National Geographic's archive, and she posted it to the (wonderful) Tumblr she curates, National Geographic FOUND.
People loved the photo (it is, after all, a delightful photo), and they liked (in a formal way), reblogged, and shared it, on sites including Facebook.
And it was on Facebook that the CBC's Julia Caron came across it. She was intrigued. Who were these kids? she asked herself. What happened to them?
Caron used Tumblr's contact feature to reach out to Dotschkal to see if there was any more information. "I kind of guessed that it might have been taken in the Lac-Saint-Jean—Saguenay region, because of the fjord you see in the background," Caron later explained to the CBC. "And Janna Dotschkal emailed me back saying yes, in fact, it was taken more specifically in L'Anse-St.-Jean," a small town in that area.
Dotschkal sent Caron a scan of the image as it had originally appeared, in a May 1939 issue of National Geographic with the title "Gentle Folk Settle Stern Saguenay." The original caption gave Caron a few more clues: "Seven little sit-down strikers bask in the sun on a split rail fence. These brothers and sisters—Rita, Lygette, Françoise, Vital, Colombe, Marc and Germaine​—are supposed to be driving the cows home for evening milking. Printing on Germaine's dress indicates the cloth once served as a sugar or flour sack. Behind the young herders, mountains enclosing L'Anse St-Jean slope away to the Saguenay."
But who were Rita, Lygette, Françoise, Vital, Colombe, Marc, and Germaine​? Caron had their first names, but not their last. Dotschkal had nothing more on the photo, she later wrote on National Geographic's Proof blog. Caron shared the photo all around, but "to no avail." It seemed that Caron's search was at an impasse.
But then, just a few days later, Dotschkal received yet another email, this one from a woman named Ketsia Houde. Houde had seen the photo on Facebook, shared by her cousin in Chicago, and she recognized it; she'd seen it once before.
Houde wrote to Caron, explaining that she was the granddaughter of the little blonde boy, Marc, second from the right. ("So cute!" the CBC interviewer accurately observes.) Dotschkal put Houde and Caron in touch, and Caron called Houde up. Houde told her about the first time she ever saw that photo. 
"It was one of those afternoons in the summer, and my grandmother was trying to keep me busy, because we were, with my sister, two little kids, and she was trying to keep them busy when it was raining or something," she recalled. "So we were looking at old pictures and several photo albums that she keeps, and there was one picture, and we were all wondering, oh, who are they? Because they looked like us, because we were the age of those kids, when we were looking at those pictures. She explained to us that this was our grandfather's family."
From Houde, Caron was able to piece together a bit more about the people in the picture, the now-identified Boudreault children. She learned that most of the children in the photograph have passed away. One survives but is in poor health. She learned more about Marc, and his love of singing. "My mother always said that my grandfather was one of the best singers in the choir," Houde recalled. And she learned of the spotless household they kept, where they worked hard and made up songs.
Odile Lavoie, Houde's grandmother, still has her May 1939 copy of National Geographic—and she's not the only one. "Everyone [in the region] was telling me how everyone knows that National Geographic came in the '30s," Caron says. "Most people have a copy in their home somewhere, and they are proud to have a part of their history commemorated by such an esteemed international publications."
The story has come full circle, the CBC interviewer observes. "You had 1938, people all excited because the National Geographic photographers were there. Everyone bought the magazine; everyone buzzing about the magazine. And 2013: Their grandchildren are having the same excitement seeing that picture of their grandparents online."
"The world can feel very big at times," Dotschkal wrote to me, "but occasionally technology can tie things together in such a neat and direct way."