Pickles, Possums, Peeps: The Things We Drop to Ring in the New Year
It's not just crystal-covered balls. Cities across the country have their own variations on the old "dropping things to celebrate time's passage" tradition.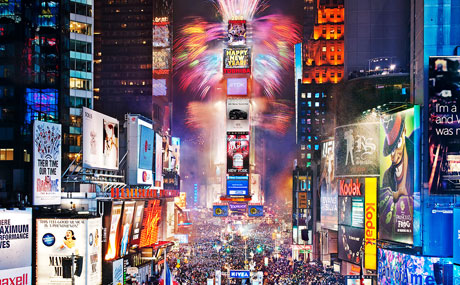 Why do we celebrate the New Year ... by dropping things?
It started with ships. Maritime vessels, back before they could turn to more precise forms of time measurement, relied on "time balls": spheres that were dropped from masts and other shipboard poles at precise intervals to help insure that their chronometers were aligned with Greenwich Mean Time. In 1906, those time balls lent themselves to another kind of time: Times Square. New York City had just banned fireworks displays, and Adolph Ochs, the owner of The New York Times, wanted to give the throngs of people who would gather around his building another kind of show. 
Ochs, as 
the Los Angeles Times reports, called on the paper's chief electrician, Walter Palmer, to come up with another source of the spectacular. Palmer borrowed the maritime tradition and combined it with something that would work on land: electricity. And the Times Square Ball Drop was born. 
Since then, the "dropping things" tradition has been modified by cities across the country, in ways both wondrous and weird. Plenty, still, drop their own balls—smaller versions of New York City's. Many others, however, drop food (cheese, fruit, Peeps). Some drop animals (cows, fish, possums, goats). One (Seaside Heights, New Jersey) has dropped a person.
Below, re-categorized from 
Wikipedia's amazingly extensive, state-by-state list
, are some of the objects that people have chosen to ring in the New Year. They reflect regional pride, municipal quirk, economic diversity ... and the rich weirdness that makes America what it is. Happy New Year, everyone. 
CLOTHING AND ACCESSORIES
A ruby slipper (Key West, Florida): The city's 801 Saloon drops a ruby slipper with the drag queen Gary "Sushi" Marion inside it.
A crown (Charlotte, North Carolina): A lighted version of the headpiece, to commemorate Charlotte's status as the "Queen City," is raised, rather than dropped, 25 feet in the air. 
A diamond (Des Plaines, Illinois)
A "Giant Shoe" (Palmyra, Pennsylvania) 
A purple-and-gold shoe (Akron, Pennsylvania) 
A pair of yellow pants (Lisburn, Pennsylvania): The pants are dropped in honor of the Yellow Britches Creek. 
FOOD AND FOOD-LIKE PRODUCTS
An enormous orange (Miami, Florida, and other Florida cities): Miami is home of "The Big Orange" Drop, in which a 35-foot orange rises 400 feet until it reaches the top of the Hotel Intercontinental Miami and is dropped from the top.
An enormous apple (Cornelia, Georgia: Cornelia hosts a "Little Red Apple" Drop and Dance to celebrate the region's apple growers.
An enormous pineapple (Sarasota, Florida): A glowing pineapple is dropped at midnight

.

An 800-pound, eight-by-eight-foot fiberglass and foam peach (Atlanta, Georgia): The city has been dropping the fruit since 1989.
A watermelon filled with watermelons (Vincennes, Indiana): An 18-foot, 500-pound Watermelon Ball, made of steel and foam, is raised 100 feet in the air during the 60-second countdown at midnight. When midnight strikes, the replica releases 11 real locally-grown watermelons.
A sardine (Eastport, Maine): A sardine sculpture is dropped in a nod to the area's history in the herring fishing and canning industry. 
A red crab (Easton, Maryland) 
A cherry (Traverse City, Michigan)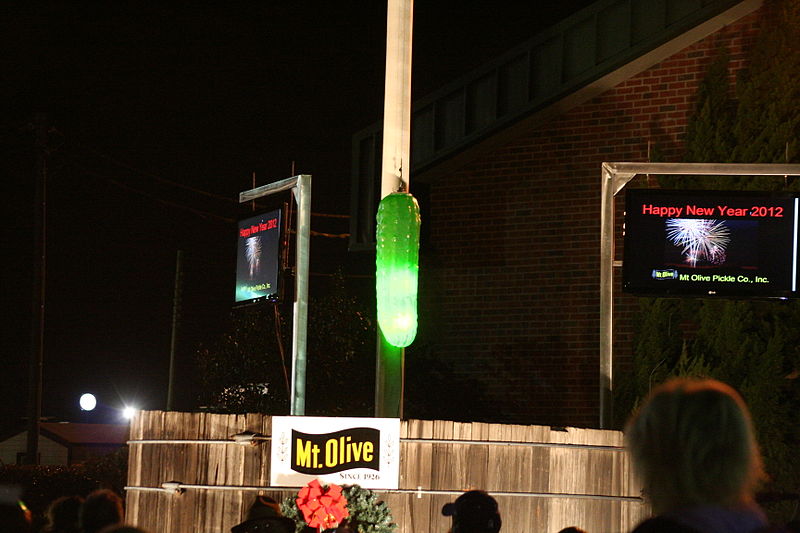 A single pickle (Mount Olive, North Carolina): At 7pm EST—midnight Greenwich Mean Time—the city lowers its New Year's Eve Pickle down the Mt. Olive Pickle Company's flagpole.
A pair of pickles (Dillsburg, Pennsylvania): One pickle ("Mrs Pickle") is dropped at midnight UTC, and another is dropped at midnight Eastern Time.
A sausage (Elmore, Ohio)
A ball of popcorn (Marion, Ohio) 
An enormous tortilla chip (Tempe, Arizona): When the city's Fiesta Bowl Block Party and Parade was sponsored by Sunkist,

 the dropped item was a giant sunburst. When Tostitos took over as sponsor, though, the sun was

 replaced by the Giant Tortilla Chip.
An 80-pound cheese wedge (Plymouth, Wisconsin): The decorated piece of cheese is lowered from a 100-foot ladder truck for its "Big Cheese Drop"—a tribute to the region's dairy industry.
A bunch of grapes (Temecula, California) 
A car-sized potato (Boise, Idaho): The potato will be dropped this evening from the US Bank building in downtown Boise.
An olive (Bartlesville, Oklahoma)
A 600-pound moon pie (Mobile, Alabama): The lit snack food is lowered from the city's RSA Tower.
An illuminated pear (Fredericksburg, Virginia)
A kettle (McClure, Pennsylvania): The city drops the dishware in tribute to its Bean Soup Festival. 
A strawberry (Harrisburg, Pennsylvania)
A Hershey Kiss replica (Hershey, Pennsylvania)
A lollipop (Hummelstown, Pennsylvania)
A french fry (Ickesburg, Pennsylvania)
A pretzel (Cleona, Pennsylvania)
A bottle of Yuengling beer (Pottsville, Pennsylvania)
A mushroom (Kennett Square, Pennsylvania): A steel mushroom will be dropped to in the city nicknamed "The Mushroom Capital of the World."
A 100-pound stick of bologna (Lebanon, 

Pennsylvania): The bologna is Lebanon Bologna. Following the drop, the cured meat is 

distributed to a local food bank and animal shelter.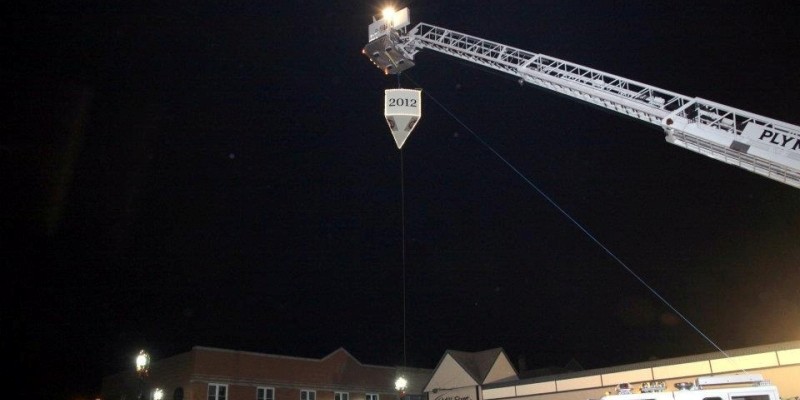 A bag of potato chips (Lewiston, Pennsylvania)
A jug (Winder, Georgia): Every yeah, the city's 

Barrow County

 Museum hosts a Jug Drop. The Barrow County Historical Society

 

serves concoctions known as Nodoroc Mud (hot cocoa) and Wog Nog (apple cider).
A Dove chocolate bar (Elizabethtown, Pennsylvania): A giant candy bar is dropped at midnight UTC to correspond with midnight in Elizabethtown's sister city of Letterkenny, Ireland. (Dove Bars are manufactured in Elizabethtown.) 
A 100-pound Peep (Bethlehem, Pennsylvania): The producer of the marshmallow-y birds, Just Born, is based in Bethlehem. To celebrate that, the town constructs an enormous, illuminated Peep out of fiberglass to ring in the New Year. 
MUSIC
A giant ukelele (New York, New York): A lighted version of the instrument, dropped by a local ukulele playing duo, has been dropped in various places around the city since 2005.
A 10-foot-tall Gibson guitar (Niagara Falls, New York): The instrument is dropped from a specially designed scaffold, 120 feet in the air, at the stroke of midnight.
A 15-foot tall music note (Nashville, Tennessee): Nashville used to have its own 

Guitar Drop in 

partnership with the Hard Rock Cafe. In 2011, that partnership ended, and the guitar was exchanged for the music note.
SPORTS
A lit hockey puck (Ann Arbor, Michigan): This year, an illuminated puck will be dropped in honor of the NHL Winter Classic game taking place tomorrow at Michigan Stadium.
An enormous golf ball (Hilton Head, South Carolina): A lighted ball is dropped from the resort area's Harbour Town Lighthouse. 
Ping-pong balls (Strasburg, Pennsylvania)
A sprint car (Port Royal, Pennsylvania)
An Indy car (Carlisle, Pennsylvania)
ANIMALS ACTUAL AND FAKE
A chicken (Gainesville, Georgia): The dropping of "Chuck the Chicken" was established in 2009 to benefit the Humane Society of Northeast Georgia.
A possum (

Tallapoosa, Georgia)

: On odd years, the city drops a possum. ("It kind of started out as a joke," an event organizer explained. "But now it's grown to one of the biggest events we have.")
Another possum (Brasstown, North Carolina): For 20 years, the city has been lowering (not dropping) a possum to ring in the New Year. Despite the objections of PETA, the tradition continues. Here's video of the annual possum drop.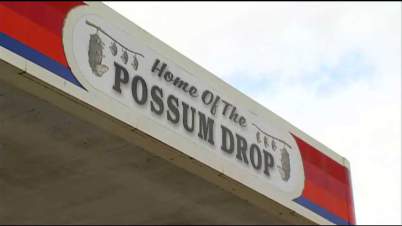 An eight-foot long, five-foot high wood-and-plastic foam lit duck (Havre de Grace, Maryland): The faux fowl has been dropped in the city since 2000. 
A stuffed muskrat wearing a top hat and bow tie (

Princess Anne, Maryland)

: His name, for the record, is Marshall P. Muskrat.
A walleye fish (Port Clinton, Ohio): This one's "Captain Wylie Walleye," and he helps you "reel in the new year."
A three-foot tall, 30-pound wooden flea (Eastover, North Carolina) 
A pig (Cincinnati, Ohio): The pig is "flown," not dropped, so as to allow cityfolk to make jokes about pigs flying.
A dead carp (Pairie du Chien, Wisconsin): A fish, 

caught by local fishers and weighing between 25 and 30 pounds, is lowered to celebrate the area's fishing industry.

The carp, nicknamed "Lucky," is lowered onto a throne. It is then buried. At its burial site, a tree planted, along with a commemorative plaque listing the carp's name and death year.

A stuffed goat (Falmouth, Pennsylvania)
A pelican (Pensacola, Florida)
A hog (Fayetteville, Arkansas) 
A beaver (Beavertown, Pennsylvania)
A wooden cow (Blain, Pennsylvania): It's dropped from a silo. 
MISCELLANEOUS
A six-foot-tall "to go" cup (Savannah, Georgia): This year, the Savannah Riverfront's celebration will end with the hoisting of a "traveler" cup.
A beach ball covered in Christmas lights (Bangor, Maine): It's been thrown off the roof of a local restaurant since 2005.
An 800-pound beach ball (Panama City, Florida): The illuminated ball drops from a 12-story tower. 
A Liberty Bell replica (Allentown, Pennsylvania): The drop commemorates the time the bell was stored in Allentown during the American Revolution. 
A cigar (Richland, Pennsylvania)
A toy spring (Newville, Pennsylvania)
An anchor (Shippensburg, Pennsylvania)
A wrench (Mechanicsburg, Pennsylvania)
A canal boat (Liverpool, Pennsylvania)
A sled (Duncannon, Pennsylvania)
A 10-foot-tall Crayola crayon (Easton, Pennsylvania)
Snooki (

Seaside Heights, New Jersey)

: In 2011, the star of 

MTV

's reality series 

Jersey Shore,

 set in Seaside Heights, was lowered inside a ball for the network's New Year's Eve special.