Now You Can Make Your Own Street View Scenes
Google opens up its mapping functionality to allow for DIY imagery.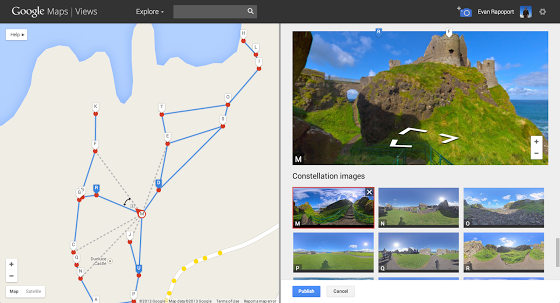 Some things are just better in Street View. Sometimes you want not just to see photos, but to interact with them, zooming in and zooming out, and panning up and panning down. Sometimes you want images that are not quite videos, and not quite GIFs, but dynamic in their own way. Explorable.
Sometimes, in other words, you just want images that double as maps.
Google's Street View has long afforded that kind of immersive experience—but only for Google-captured and Google-sanctioned imagery. Now, though, it's opening up the Street View functionality to users. If you have the right tools, you can do from your computer what those Street View cars do from the road, turning panoramic photos—and their location data—into continuous, interactive images.
To do it, you'll need a DSLR camera or, yep, an Android phone—both of which will allow you to take panoramic photos ("Photo Spheres"). Share those spheres on Google Views, select the ones you want included in your Street View scene, and the Street View feature will connect them into a continuous experience. As Google product manager Evan Rapoport sums it up: "Once your photo spheres are connected and published, people can navigate between them on Google Maps, just like they can in Street View."
Here's Rapaport's own creation: a Street View experience of Dunluce Castle in Northern Ireland. "I built this from photo spheres I created with both my Android phone (Nexus 4) and my DSLR camera," he explains. "Now everyone can virtually explore this beautiful location I visited on my vacation."