November Was the Warmest November Since We Started Keeping Track
It's amazing what we can do when everybody works together.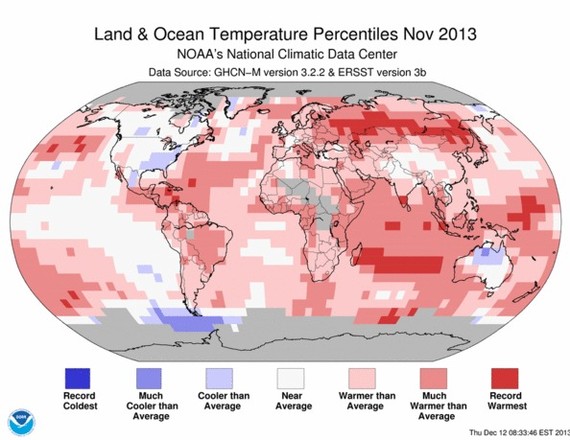 If you live in the eastern half of the United States, last month probably seemed like a normal November for you, perhaps even a bit chilly.
But, historically, the month was anything but.
According to NOAA, November 2013 was the warmest November since at least 1880, the year when NOAA's global temperature records begin. During the 20th century, the average global temperature for November was 55.2° F; in 2013 we managed to beat that by 1.40° F.
The longer three-month period, stretching from September to November, was also unusually warm—the second warmest on record since 1880; only 2005 was warmer. For the entire year to date, 2013 is on track to be among the top five or six warmest years since we started keeping track. All ten of the ten warmest years on record have happened in the past 15 years.
Good job, everybody. Keep it up and you get a prize.