New York City's Energy Infrastructure Transformed Last Month and Nobody Noticed
A new pipeline massively expanded the amount of natural gas flowing into Manhattan.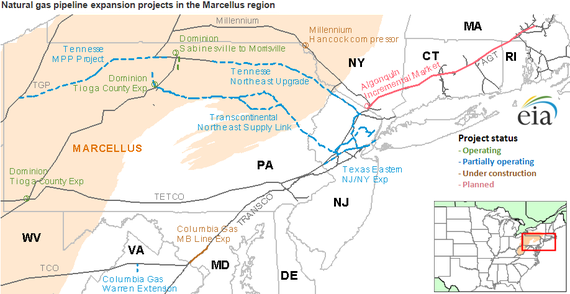 A really important thing happened last month to New York City and the rest of the mid-Atlantic. This event will change the daily lives of millions of people, especially during the coldest months of winter. And, despite some protesters, it all went down with less fanfare than Jay Z and Beyonce going vegan for a month.
An $856-million pipeline expansion began ramping up service, allowing more natural gas to get to New York City consumers. The New York-New Jersey expansion project moves more gas the last few miles from Jersey, which is the terminus for much of the Marcellus Shale gas flowing out of Pennsylvania, into Manhattan. The Energy Information Administration called it "one of the biggest... expansions in the Northeast during the past two decades." It will bring an additional 800 billion British thermal units (BTU) of gas to the area per day.
For scale: BTU is about the energy expended when you light a match.  A homeowner might use a few tens of millions of BTU to heat a house over a entire winter. In rough terms, the gas flowing through the pipeline could heat 2 million homes. (All these estimates depend heavily on climatic variations, home efficiency, and other factors.)
Another way to think about it is to look at the physical infrastructure that got quietly installed: 4.8 miles of 42-inch pipe between Linden, New Jersey, and Staten Island. 15.2 more miles of 30-inch pipe from Linden to ConEd in lower Manhattan.
In 2000, the U.S. produced just 320 billion cubic feet of shale gas. By 2012, production was over 8 trillion cubic feet, which is almost 40 percent of all the natural gas produced in the country. It's astounding.
And the huge amounts of shale gas now being drilled out of formations across the country don't just change the underground at the point of production. The shale gas boom is transforming the nation's energy consumption mechanics, too. That's why the NY-NJ expansion is just one of many other projects planned for this winter and beyond along the eastern seaboard.
Spectra Energy built (most of) the expansion. This is how they ran the pipe under the Hudson River:
There's long been too much congestion in New York's pipeline infrastructure. It's kept the price of gas much higher in the boroughs than elsewhere, especially during the winter.
As we can see in the Energy Information Administration chart below, New England (light blue) remains in a state of congestion, so the future contract price of gas will continue to spike during the winter. With the expansions in place, New York (blue) has smaller spikes, remaining much closer to the spot price down in Lousiana (dark blue)