Love on Death Row
A new website shows how prisoners use the word 'love' in their last words.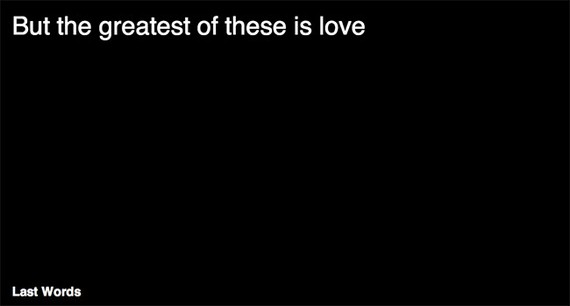 The website is black. White words fade in and out at the top of the screen.
I love you all

I love you Israel

I'll always remember you, and love you forever

Yes, Love you mom, love you pop, love you Sara, and Amanda

I got to go sister, I love you

I'd like to say I love my mother, brother, sister, grandmother, cousins, and nieces, and my brothers and sisters I have never met

I cannot find the words to express the sadness I feel for bringing this hurt and pain on my loved ones

I have known the love of a good woman, my wife

God's love is infinite

I love all of those on Death Row, and I will always hold them in my hands
It takes a moment for the eyes to sweep down to the bottom of the page, where we see, "Last Words: Occurrences of 'Love' in Last Words of Executed Texas Death Row Inmates."
But the greatest of these is love
The single-serving site is the creation of web developer Darius Kazemi, @tinysubversions on Twitter. It's made possible by the state of Texas, which archives all the last-word statements online, and some simple code to extract the sentences in which the word 'love' appears and reformat them for the small, black screen.
Machines let us radically recontextualize language. People can create bots that tweet every word in the English language, one at a time. Or bots that talk back to us, using our own words. Or one could resplice Shakespeare sonnets to create a new poem with all of the bard's references to place.
But most text machines are fun or practical.
This one is ... an emotional engine. It takes the archaic tradition of the last words and puts them into conversation with one another. It makes me think about the strangeness of love's persistence in humans who are about to be killed by their government.
The sentences fade in and out at a measured pace. One can't go backwards or forwards, but only wait for the next statement.