How to Take a Picture of a Single, Ultra-Magnified Snow Flake
You—yes, you!—can help prove that no two flurries are alike. All you need is a good camera, a plastic bag, and some tape.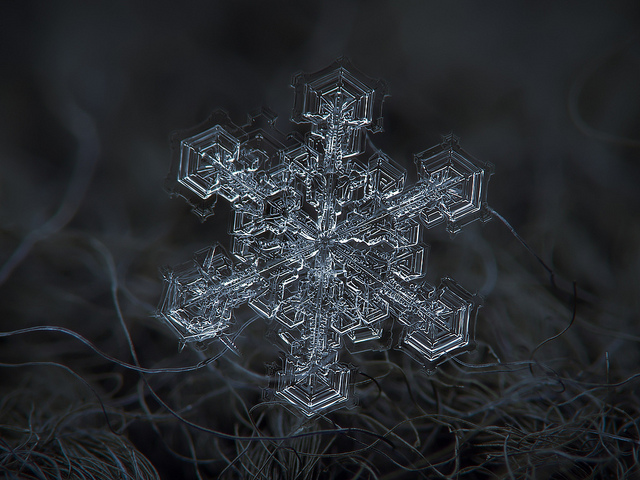 No two snowflakes are alike, they say. And yet: We rarely get proof of that. Our eyes perceive snow not as individual, idiosyncratic crystals ... but rather as uniformly fluffy flakes. And! When we try to get a better look at the true intricacy of snow by capturing one of the flakes ... the thing melts. Snow is a cold and fickle thing.
Unless, that is, you are a photographer in the tradition of Wilson Bentley—one of the photographers who specializes in the highly technical art of snowflake imagery. The photographer Alexey Kljatov is one of those. And his Flickr page is full of close-up, highly magnified shots of snow flakes—dainty structures whose variety hints at the mind-boggling range of the humble, ephemeral flake.
And: You could take similar shots! If, that is, you have a fancy camera, some household tools, and a DIY attitude. You need, first of all, a glass surface, lighted by either an LED flashlight or natural light. (In the latter case, you need a dark background that will maximize the visibility of the flakes: Kljatov likes dark, woolen fabrics.)
Mostly, though, you need a camera that's been MacGyvered for the purpose of flaking out. As Kljatov, who is Russian, explains it:
On a floor of a balcony I put the turned stool (legs up), on them—a glass plate. Previously, i shoot using Canon A650's standard macro mode. For this, from a small plastic bottle I cut central cylindrical part in the form of a tube (height 5.5 cm). This height I picked up so that the lens of the camera, pushed in a tube, will be at distance 1 centimeter from the bottom (this is minimum focusing distance of Canon A650 in macro mode). I just put this cylinder with the camera's lens within it over the chosen snowflake, the lens looks vertically down. For steady shots, i shoot in small series with starting delay 1-2 seconds after focusing, taking away my hands off the camera. With free hand i illuminate snowflake with flashlight from under the glass. The flashlight shines through two layers of white plastic bag for more uniform lighting. This is enough for shooting even at night with minimum ISO and short exposure time.
The camera in question ends up looking, awesomely, like this: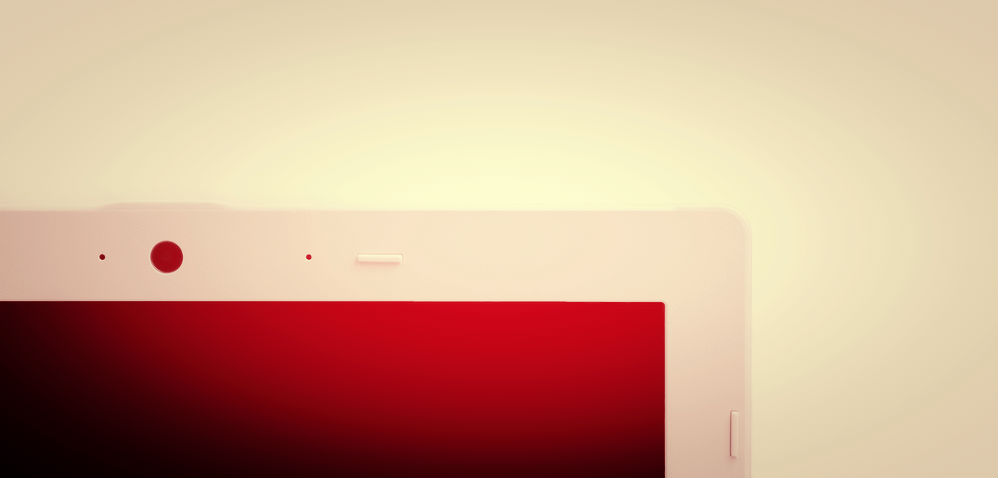 And the setup ends up looking like this: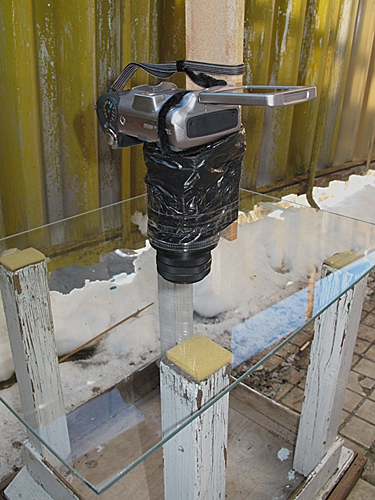 And that whole contraption yields shots like these. Wow.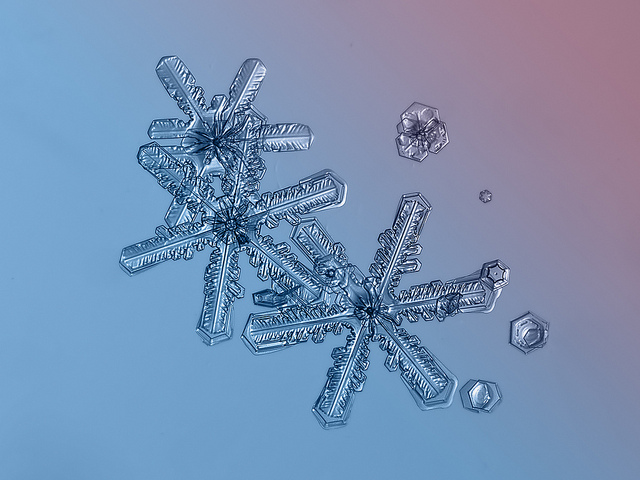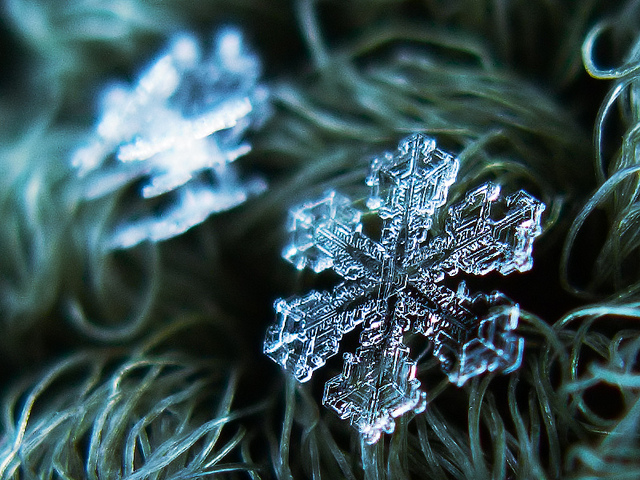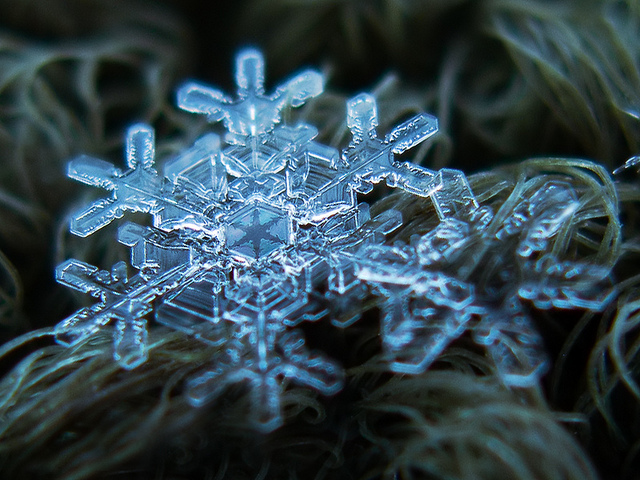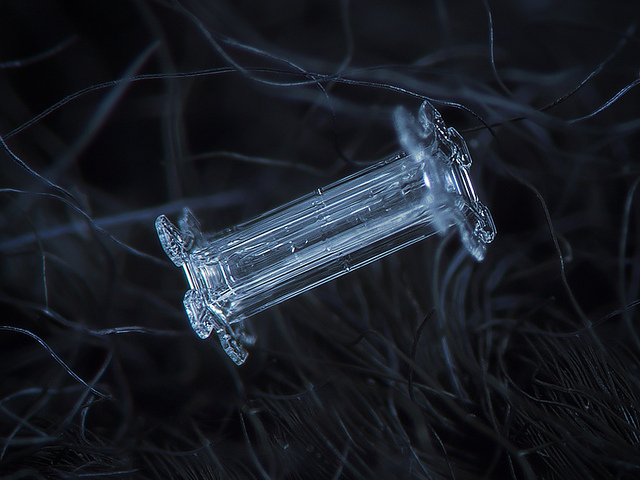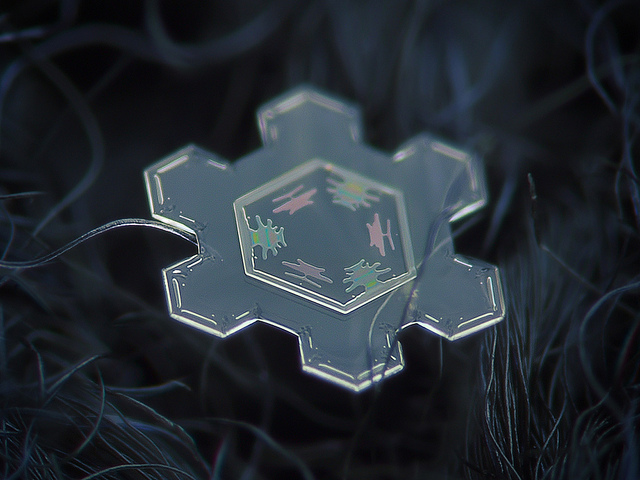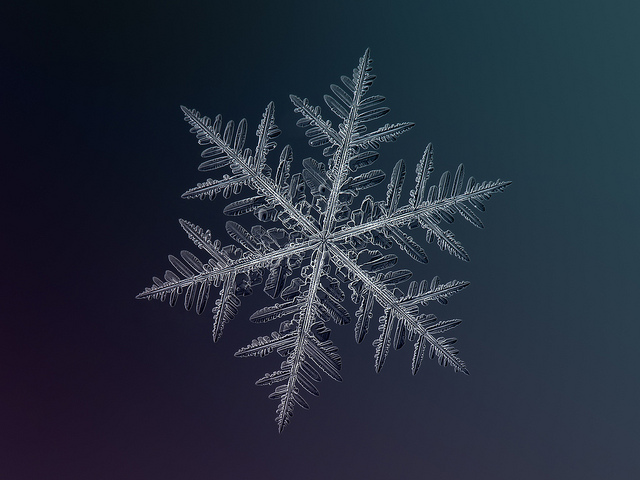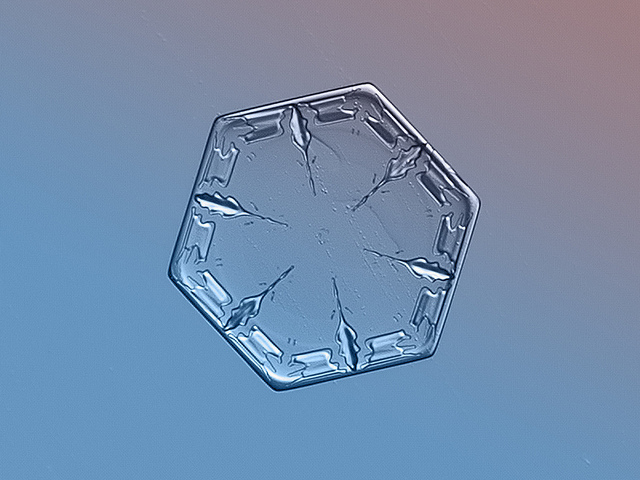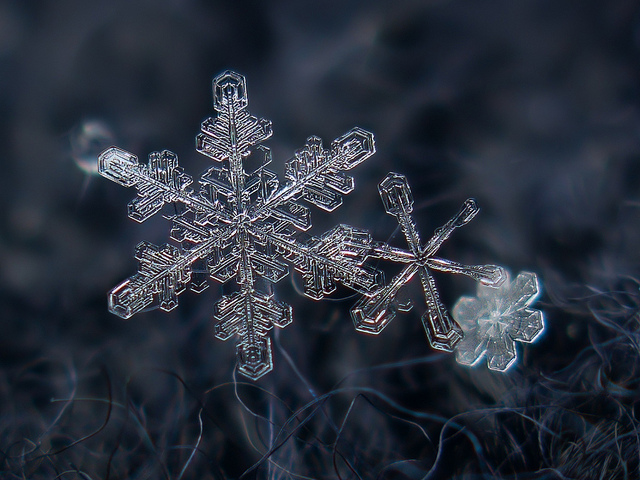 Via @pourmecoffee