Here Is What Happens When a NASA Scientist Designs Holiday Sweaters
Hint: We need GIFs to show you what the they look like.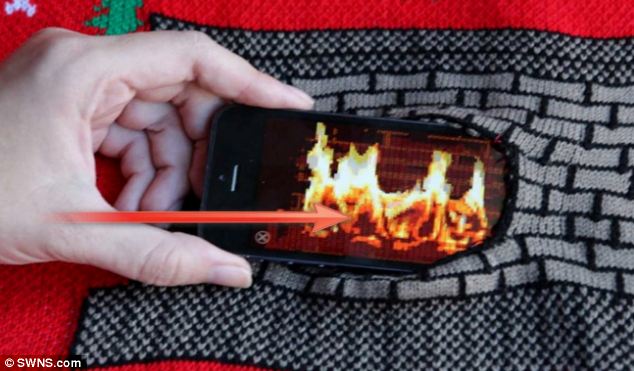 Mark Rober spent nine years working as a rocket scientist. At NASA. His focus? The Curiosity rover, the plutonium-fueled science-experiment-cum-robot that is currently exploring the surface of a planet millions of miles away from Earth.
So if you are Mark Rober, rocket scientist and robotics engineer, where do you go from there? How do you find a new achievement that will take the lessons you've learned from interplanetary science and expand their impact for the good of all mankind? 
You design sweaters, obviously! And not just any sweaters, but the best/worst kinds of sweaters the world has ever known: holiday sweaters. The kinds that feature reindeer and Santas and trees, the kinds that come with bells and whistles that are often all too literal, the kinds that are knit by well-meaning grandmas and re-gifted by sadistically-leaning friends.
If you are a NASA scientist with a brilliant mind, an entrepreneurial spirit, and time on your hands, your pivot is obvious: You go from flyovers to pullovers.
And Rober's sweaters, as befits Rober himself, are not your typical holiday sweaters. These things are high-tech. Because they are sweaters that are decorated with computers. The garments incorporate smartphones into their designs via a clever pouch and a dedicated app. Add the app, pop the phone into its pouch ... and voila!
You get a sweater that features a flickering fire: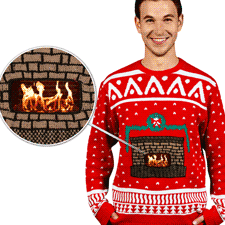 ... And a sweater that features a cat ("MEOWY CHRISTMAS") with a gape-y mouth and shifty eyes.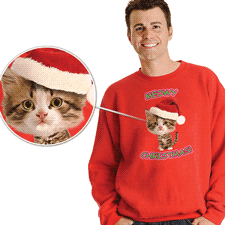 You also get: a snow globe. And a "creepy Santa." As Rober tells The Daily Mail, "'My favorite is the creepy Santa one—I really like it." Why? Because "the creepy factor is subtle until you really look at it."
This is, perhaps, a subjective judgment: Nothing about the sweater, I'd say—the creepy factor, in particular—is subtle. But this is the point. These are not sweaters that will keep you especially warm. These are not sweaters that you layer over t-shirts and under coats. These are sweaters that are meant to be seen. These are sweaters that are meant to be marveled at, and commented upon, and otherwise respected. These are sweaters, in other words, that do what sweaters do best: WIN. As a promotional video puts it, the screen-aided sweaters will help you "DOMINATE your Christmas party without even trying that hard."
The Daily Mail via @margafret