Germany's Solar Star Fades
The United States is set to overtake Germany, long the world's biggest solar power.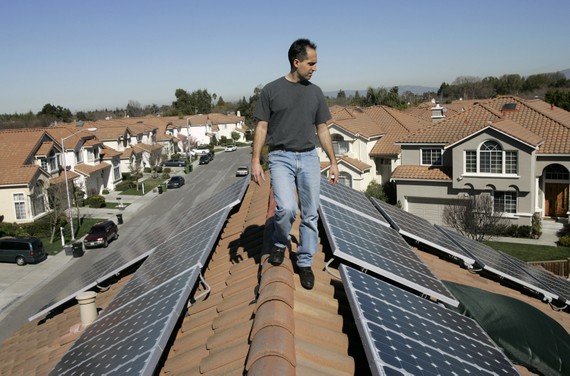 Home solar installations in the United States hit a record high in the third quarter and that should help the country overtake Germany as a photovoltaic superpower by year's end.
That's a big deal. Germany has long been the world's leader in solar, embarking on a renewable energy building boom a decade ago that has been subsidized by generous premiums paid to generators of green electricity. With a quarter of the U.S.'s population, Germany has installed nearly four times the photovoltaic capacity—some 35,000 megawatts.
But the U.S. is quickly catching up. A new report from GTM Research and the Solar Energy Industries Association the U.S. is on track to install more solar this year than Germany for the first time in 15 years. "Solar is the second-largest source of new electricity capacity in the U.S. this year, trailing only natural gas," Shayle Kann, GTM's vice president of research, said in a statement.
It's a tiny margin, though. GTM expects the US to finish the year with 4,268 megawatts of new photovoltaic capacity versus Germany's 4,200 megawatts. The trend, though, is in the U.S.' favor. Germany has cut subsidies for renewable energy in the wake of the never-ending European financial crisis while American solar installations continue to surge.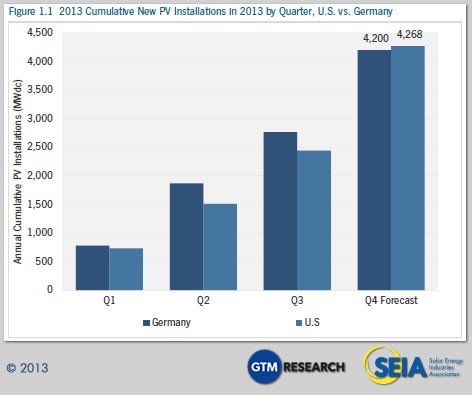 That's largely thanks to financial innovations like no-money-down leasing that lets homeowners go solar in exchange for monthly payments that typically are less than what they'd pay their local utility for electricity. And despite the pell-mell growth in the U.S., there's still millions of roofs left to solarize.
In the third quarter of 2013, residential rooftop solar grew by a record 186 megawatts in the U.S, a 49 percent spike over the year-ago-quarter. Total installations, including those on commercial buildings and photovoltaic power plants, hit 930 megawatts, according to the report. That's a 20 percent jump over the second quarter of this year and a 35 percent increase over the third quarter of 2012. Prices for installed solar systems continue to fall—declining 4.2 percent from the second quarter to the third quarter.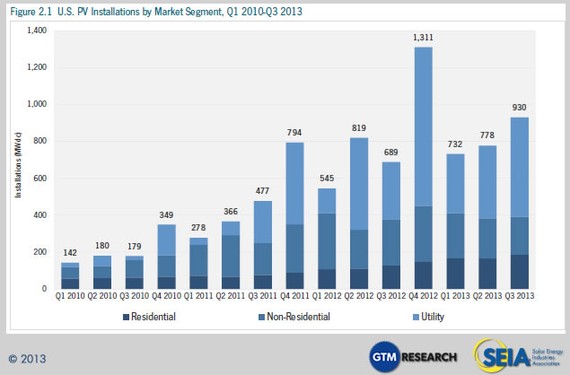 California remains the nation's super state, installing 455 megawatts in the third quarter and it's expected to end the year with 2,132 megawatts of solar on tap. That's nearly five times as much as the country's No. 2 solar state, Arizona.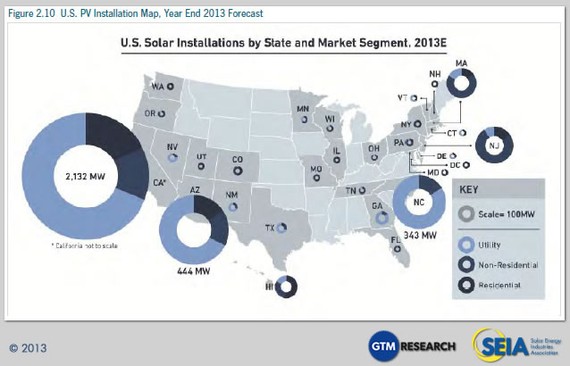 But neither the U.S. nor Germany can match China's pace. Though that country's solar building boom has just gotten underway, it will quickly catch up to Germany. In 2014, China is expected to install 12,000 megawatts in 2014—a third of the planet's photovoltaic capacity that year.