Editors at the Prestigious Journal Nature Get Serious About Reddit
A new collaboration will have top science journalists engaging with their readers at the subreddit r/science.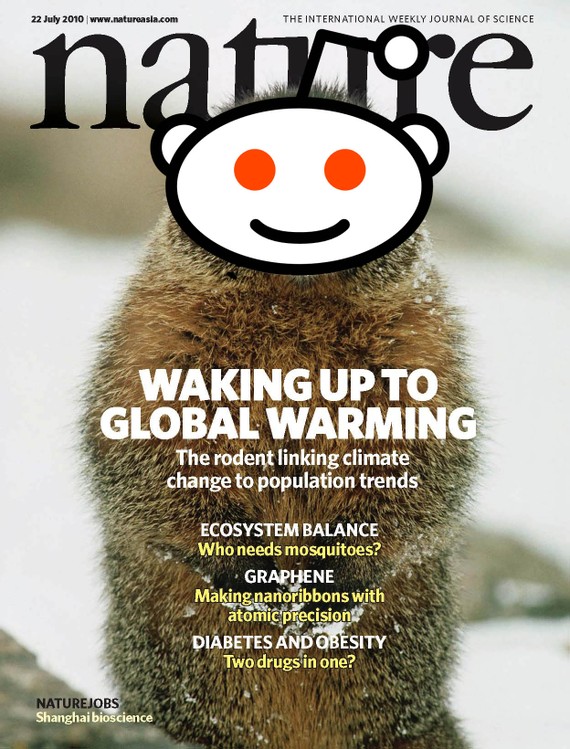 Nature is one of the world's most prestigious science journals.
Reddit is a website teeming with readers. Readers, readers, and more readers clicking on and discussing articles from all over the Internet, on topics ranging from The Walking Dead to Kierkegaard.
One of Reddit's busiest subsections is r/science. The subreddit has more than 4,000,000 subscribers. At this very moment, some 2,000 are active on the site. They congregate there, every day, and link to and chat about science news from all over the world. Often, that news comes from Nature.
Editors at Nature took notice of these conversations, and sometimes participated. They'd help to explain a story they had written, answer questions that readers had, and direct people toward additional materials. Now, a new collaboration between Nature and r/science, adds a bit of formality to that routine, giving Nature editors and reporters little status markers (known as flair) next to their names that will identify their role at Nature, which, the journal's chief online editor Ananyo Bhattacharya explained to me over email, "gives our reporters and editors some prominence while clearly signaling that we have chips in the game."
The past few years have seen increasing efforts to use the tools of the Internet to improve science communication, to make it more direct, responsive, and accurate. NASA has made extensive use of social media to push its space photos and mission news to the public, even hosting various "tweetups" for NASA followers to meet up in the flesh. Millions of people have watched eclipses, asteroid flybys, rocket launches from the comfort of their living rooms. Labs have trained web cameras on their subjects; science enthusiasts have developed web series to convey how things work or why certain phenomena exist, such as MinutePhysics, which does so very quickly. Online, any audience is within reach—the only matter is figuring out the right tool, and the right product, for reaching them.
For Nature, Reddit is one such tool. Bhattacharya says that part of what attracted Nature to get more involved in the r/science subreddit is the large numbers of PhDs and postdocs who participate in the conversations (for example here). Reddit, Bhattacharya  says, "is another way for us to reach our core audience."
The collaboration is simple. About a half-dozen Nature journalists will keep an eye on r/science to see if any of the top conversations are from Nature.com. They can then jump in and answer questions. For manuscript editors who are participating, they'll bring their expertise to bear in the conversations. "There's also some inaccurate reporting out there, and it's an opportunity to put the record straight," says Bhattacharya. All participation from Nature staff is entirely voluntary.
Bhattacharya argues that news organizations too often leave post-publication communication to their marketing departments, not their editorial ones. "The result is that, rather than a two-way interaction, you get a one-way push—and that doesn't work," he wrote to me. "The story isn't just what you push live to your site any more. It's an organic entity comprising all the comments, all the social-media pick-up and so on. Can journalists really afford to not be a part of that?"
Bhattacharya says he first suggested some sort of system for flagging journalists to the r/science moderators about a year or two ago. "At the time, they didn't think this was necessary," he recalls. "They told me journalists could announce their presence in the comment threads." But in the summer they decided to give it a try, and announced flair for National Geographic journalists. "Shortly after that, some of the mods got in touch with me and asked if Nature would be interested. We said yes."
R/science moderators have said they'd love to expand the practice to editors from other journals, such as PLOS and Science. "It's not so much that we reached out to Nature as it was a Nature journalist was an active redditor (and there were a few lurkers) and when we posted that we were looking to set something like this up with science journals they were among the first to express interest," one of the forum's moderators wrote on the site.
For his part, Bhattacharya says he's been hanging around r/science for about three years. "The level of discussion on science posts is really high, and has improved each year," he observes.
And one more thing: "It also makes me laugh," Bhattacharya says. "That's important too."