A Win for Consumers on Cellphone Unlocking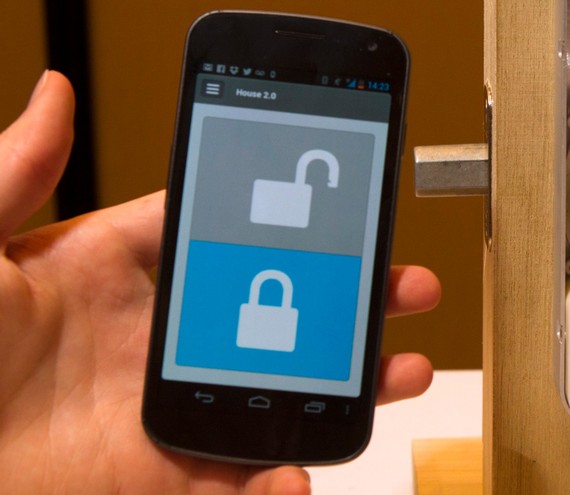 Good news on the year-long cell phone unlocking battle. The Federal Communication Commission just came to an agreement with U.S. wireless carriers that will make it easier for consumers to unlock their mobile devices.
The agreement comes almost 12 months after more than 114,000 people petitioned the White House to take a stand against the Librarian of Congress's decision to make cell phone unlocking illegal. The unlocking movement has been hugely populist—uniting an unlikely group of tech activists, consumer rights advocates, digital freedom groups, electronics recyclers, phone repair shops, and conservatives under the banner of "You bought it, you should own it."
In fact, the CTIA—the lobbying group for major wireless carriers—is the only group that publically voiced any real opposition to the clamor over unlocking. Their position proved unpopular with the press and with the public.
"[T]he issue has turned into a policy and consumer black eye for the wireless industry, which was perceived to be on the wrong side of the debate over consumers' rights and freedoms," writes Reuters' Alina Selyukh.
Faced with public outcry, pressure by the FCC, and a bevy of Congressional bills written to correct the problem, the CTIA was eventually forced to change their position. As part of their agreement with the FCC, the CTIA will voluntarily adopt six principles for unlocking mobile phones and tablets.  Here they are:
1. Disclosure: Each carrier will post on its website its clear, concise, and readily accessible policy on postpaid and prepaid mobile wireless device unlocking.

2. Postpaid Unlocking Policy: Carriers, upon request, will unlock mobile wireless device or provide the necessary information to unlock their devices for their customers and former customers in good standing and individual owners of eligible devices after the fulfillment of the applicable postpaid service contract, device financing plan or payment of an applicable early termination fee.

3. Prepaid Unlocking Policy: Carriers, upon request, will unlock prepaid mobile wireless devices no later than one year after initial activation, consistent with reasonable time, payment or usage requirement.

4. Notice: Carriers that lock devices will clearly notify customers that their devices are eligible for unlocking at the time when their devices are eligible for unlocking or automatically unlock devices remotely when devices are eligible for unlocking, without additional fee. Carriers reserve the right to charge non-customers/non-former-customers a reasonable fee for unlocking requests. Notice to prepaid customers may occur at point of sale, at the time of eligibility, or through a clear and concise statement of the policy on the carrier's website.

5. Response Time: Within two business days after receiving a request, carriers will unlock eligible mobile wireless devices or initiate a request to the OEM to unlock the eligible device, or provide an explanation of why the device does not qualify for unlocking, or why the carrier reasonably needs additional time to process the request.

6. Deployed Personnel Unlocking Policy: Carriers will unlock mobile wireless devices for deployed military personnel who are customers in good standing upon provision of deployment papers.
CTIA claims the solution will take some time to roll out. Carriers will start implementing three of the six new principles in three months (no details yet as to which of the three are on the docket—your guess is as good as ours), with full implementation in 12 months.
Still, the agreement between the CTIA and the FCC doesn't fully resolve the unlocking issue. While consumers can request a 'key' from carriers, they won't be able to download an unlocking program and unlock their phones on their own. And, the developers who make and sell those unlocking programs are still at risk of $500,000 fines and 5 years in jail under current laws.
As non-customers, refurbishment organizations also won't get any meaningful resolution to their concerns. Under the new agreement, it appears to that refurbishers will have to pay a "reasonable fee" in order to unlock refurbished phones and put them back on the market—a stipulation that would cut into already narrow profit margins. (After their parts and labor costs, refurbishers like Recellular often make less than $5 fixing and reselling an older phone.)
More importantly, the unlocking debacle helped to kickstart a much larger debate over the Digital Millennium Copyright Act—a complex law, enacted in 1998, that allowed the Librarian of Congress to make unlocking illegal in the first place. Critics of the law—chief among them the Electronic Frontier Foundation, Sina Khanifar of fixthedmca.org, and copyright activist Derek Khanna—have argued that certain clauses in the DMCA have been used by carriers and manufacturers to censor security researchers and chip away at consumer rights.
The agreement between the CTIA and the FCC puts forth a very narrow fix to unlocking, but it's possible that the agreement will derail Congressional attempts to provide a broader fix to the problem—including efforts to reform the DMCA. Regardless of the recent agreement, the White House is pushing for Congress finish what they started.
"The FCC and carriers are doing their part," wrote White House Assistant to the President, Gene Sperling, in an email to signers of the petition that first thrust unlocking into the national spotlight. "Now it is time for Congress to step up and finish the job by passing the Unlocking Consumer Choice and Wireless Competition Act, which was voted out of the House Judiciary Committee this summer, and its companion in the Senate."
Still, Obama's administration has been inconsistent of late on cell phone unlocking. While publicly advocating for reform, behind the scenes they have lobbied for expansions to copyright in the Trans-Pacific Partnership treaty, which could make it impossible for Congress to legalize unlocking. Their position might have remained a secret if Wikileaks hadn't released a draft of the treaty.
That said, the agreement between the FCC and the CTIA is a step—if perhaps a small one—in a pro-consumer direction. Sherwin Siy of Public Knowledge, a group that's been active on the issue from the beginning, perhaps summed it up best.
"We're very pleased to see the Chair and the Commission pulling together an agreement that will help consumers get the full use of the products they buy. This agreement provides customers of the largest carriers the definite ability to unlock their phones and move them to competing carriers. Crucially, it also has strong requirements that carriers give clear and useful notice to consumers of their rights when they can unlock."
However, it shouldn't take nearly a year, or the intervention of the FCC, to achieve a partial solution to this problem. With more sensible laws in place, the Commission wouldn't have to take steps like these to cajole the carriers into a common-sense solution. In the meantime, though, the agreement represents an excellent win for consumers."