5 Intriguing Things: Friday, 12/20
Thorium nuclear reactors, the science of chocolate chip cookies, Unit 8200 of Israeli intelligence, computers in everything, and YouTube commenters on DARPA robots.
1. Chinese scientists are working on a thorium-based nuclear reactor. 
"The technology's immediate appeal for China, both Chinese and American scientists say, is that thorium reactors have the potential to be much more efficient, safer and cleaner than most in service today.
The Chinese plan to cool their experimental reactors with molten salts. This is sharply different from the pressurized water-cooling systems used in most uranium-fueled nuclear plants. The risks of explosions and meltdowns are lower, proponents say.
'If a thorium, molten-salt reactor can be successfully developed, it will remove all fears about nuclear energy,' says Fang Jinqing, a retired nuclear researcher at the China Institute of Atomic Energy. 'The technology works in theory, and it may have the potential to reshape the nuclear power landscape, but there are a lot of technical challenges.'"
+ Context: Some people are convinced thorium is going to save the world.
2. A truly obsessive quest to scientifically test how to make the best chocolate chip cookie. 
"I made it my goal to test each and every element from ingredients to cooking process, leaving no chocolate chip unturned in my quest for the best. 32 pounds of flour, over 100 individual tests, and 1,536 cookies later, I had my answers."
3. The Israeli intelligence unit that is also a great startup incubator. 
"Dozens of private companies have been founded by veterans of Unit 8200, many of them based on the work they did for Israeli intelligence. They have turned Unit 8200 into an incubator for so many successful security companies that Yossi Vardi, who founded Israel's first software company in 1969, said 'more high-tech millionaires have been created from 8200 than from any business school in the country.'
One former Unit 8200 head told Haaretz that in 2000, 30-40 high-tech companies founded by Unit 8200 veterans were launched, and of those 5-10 were floated on Wall Street. Since then, say army officials, the number has likely skyrocketed.
'This correlation between serving in the intelligence Unit 8200 and starting successful high-tech companies is not coincidental: Many of the technologies in use around the world and developed in Israel were originally military technologies and were developed and improved by Unit veterans,' the head told Haaretz."
4. The real lesson about our world that we can learn from the theft of 40-million credit card numbers from Target.
"'Cash registers used to be just cash registers,' said Dan Kaminsky, the chief scientist at White Ops, a security consulting company. Today, they are computers of sorts, as vulnerable to hackers as a PC."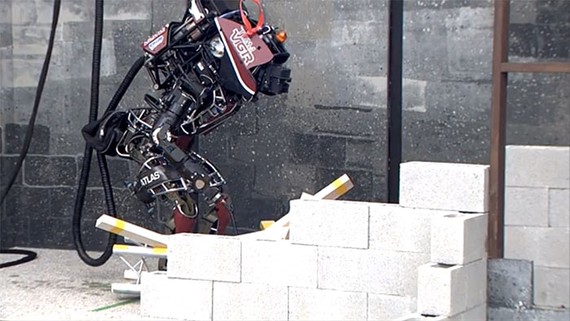 5. A radically condensed transcript of YouTube commenters watching a live-feed of DARPA robot competitors trying to operate in a simulated disaster.
"think I'll wait to see the highlight reel...zzzzzz
Ну только если тебе насрать на сами шашлыки =]
Do you think he's stuck?
damn i'll just watch the highlights tomorrow
The highlight reel will be 7 hours long
Can you imagine that thing trying to help you out of rubble? "I am over here" "no, not there, here" "anytime now" "you can do it" "come on" "one step at a time"
this robot is best at makeing me sleep
Today's 1957 English usage tip is:
accept of. This, formerly used almost as widely as the simple verb, is now restricted to the meaning consent to receive as a gift or benefit or possession. We can still accept of a gift or favor, of a person's love or company, & the like, though even these phrases tend to become archaic. But a theory, an emendation, advice, an apology, an invitation, we only accept.
Please Accept of This Newsletter