Why You Might Buy Electricity From Elon Musk Some Day
In California, homeowners are pulling the plug on their utilities by storing solar electricity in Tesla batteries.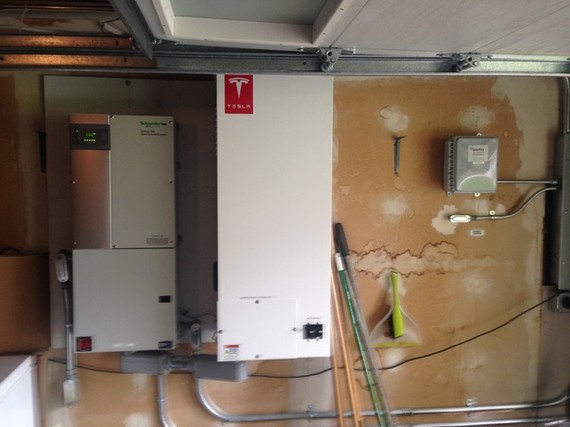 At first glance, there's nothing particularly Jetsons-like about Marco Krapels' 1940s-era home in a prosperous suburb that lies in the shadow of Mount Tamalpais in Marin County, California. Open the garage door, though, and it's Tomorrowland.
Attached to the wall is a charging station for Krapels' Tesla Motors Model S electric sports sedan. And next to the charger are two metal boxes that effectively render Pacific Gas & Electric, the 108-year-old utility that serves Northern California, irrelevant. One box channels electricity generated by the SolarCity photovoltaic panels on the house's roof. The other, a 10-kilowatt-hourTesla lithium-ion battery pack, can store up to three days' worth of carbon-free electricity generated by Krapels' solar array.
In other words, during the sunniest part of the day, when no one is at home and power demand is low, the Tesla battery pack can store the excess electricity for use in the late afternoon and evening when power prices spike. No dirty and expensive utility electrons needed.  "I should technically be able to function with solar and just the battery indefinitely as long as the sun shines," says Krapels, a renewable energy financer.
And the cost? Thanks to California incentives that subsidize 60 percent of the cost of energy storage, Krapels is paying less than $40 a month for the battery pack as part of a lease deal with SolarCity, the Silicon Valley company that installed the solar battery system.
"To be able to make my own power and store my own power and use it when I want to is liberating," says Krapels as he stands in his garage. "I don't want to have to buy power from PG&E at peak rates, I want to use my own power. You see this power line going from the street to my house? I look forward to the day when I cut that wire."
But that day has not quite arrived. The Tesla energy storage unit – it's is a smaller version of the battery pack that powers the Model S – has sat unused since it was installed in Krapels' garage last spring. PG&E, like other big California utilities,  has refused to connect residential solar-battery storage systems to the grid unless homeowners pay a fee that can run $800 or more.
That fee fight is a fig leaf for a much bigger struggle that is unfolding over who will control the production and distribution of energy in the US – old-line monopoly utilities or a new generation of green tech companies like SolarCity and Tesla that put that power in the hands of their customers.
"Utilities are not a massive fan of people being able to disconnect from the grid," Peter Rive, SolarCity's co-founder and chief operations officer told The Atlantic. "But just trying to fight energy storage and kill it is going to backfire on them."
The trend in so-called distributed generation is being driven by the plummeting price of solar panels, the growing production of advanced batteries for electric cars and government regulators who have imposed mandates on utilities to buy an increasingly percentage of the electricity they distribute from renewable sources. In October, California regulators ordered the state's three big utilities to obtain technology to store 1,325 megawatts of electricity generated from wind, solar and other renewable but intermittent sources of energy.
That's spawning innovation in an industry that has long seemed stuck in a technological time warp. Stem, a Silicon Valley startup, for instance, is installing $100,000 54-kilowatt-hour lithium-ion battery systems in hotels and other businesses to allow the storage of electricity when prices are low to avoid high rates utilities charge commercial customers when demand spikes. NRG Energy, meanwhile, is testing a device that will let homeowners generate their own electricity from natural gas.
But the biggest existential threat to utility hegemony may well lie with SolarCity and Tesla. (The two companies have a combined market cap of $18.8 billion; PG&E's is $18.3 billion.) In 2010, the California Energy Commission awarded SolarCity $1.8 million to study the feasibility of integrating its solar panels with batteries made by Tesla. (Elon Musk, Tesla's chief executive, serves as SolarCity's chairman and is the cousin of the company's founders.)
SolarCity spent three years developing the software that controls the interaction between a photovoltaic array, the Tesla battery and the grid. Rive says the company has offerered the solar storage system to select customers – more than 300 so far – who either want backup power in the event of an electricity outage, or who like Krapels, want to pull the plug on their utility. According to the California Public Utilities Commission, as of July 1, there were 319 applications to hook up rooftop solar arrays with storage systems that could a total of 10 megawatts of electricity.
PG&E, Southern California Edison and San Diego Gas & Electric – California three big utilities – however, have argued to regulators that such subsidized storage systems would saddle other customers with the cost of maintaining the power grid and thus they should be charged connection fees. In California, homeowners already receive a credit for the solar electricity they send to the grid that is used to pay for the power they use when the sun isn't shining. If homeowners can hook up batteries to their solar arrays, the utilities asked, what's to stop them gaming the grid by storing electricity from the transmission system when rates are low and then selling it back to the utilities when rates are high?
The California Public Utilities Commission is debating those issues now and in a preliminary ruling in October, it said utilities should allow homeowners to connect energy storage systems to solar arrays at no extra cost for the time being. But in a nod to the utilities' concerns that some homeowners would arbitrage the grid, the commission said homeowners would have to pay connection fees if their energy storage systems can store more electricity than their solar panels generate.
To Krapels, though, utilities are fighting what will ultimately be a losing battle. "I'm a real believer in energy independence for the individual, not just for the utility or some big fossil fuel company," he says. "So many traditional infrastructures have been disrupted and I think energy is next."