Why Samsung Should Be Happy They Only Owe Apple $888 Million
A patent infringement lawsuit cost Samsung a lot, but they make more money than that each month selling phones
Samsung didn't have a phone business to speak of when the iPhone was launched in 2007. Hell, they didn't have much of a phone business on the three-year anniversary of that launch in January of 2010. But in the summer of that year, they started releasing phones that looked—to Apple's lawyers at least—suspiciously like a certain Cupertino product.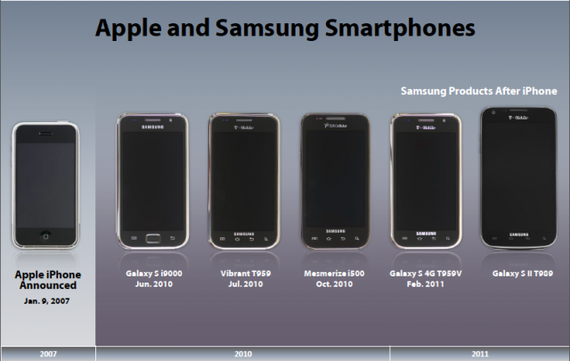 Apple sued for patent infringement and won. The most recent ruling today gave Apple $290 million in legal fees. That brings Samsung's total patent-infringement payout to $888 million.
But hey, what a deal!
By surfing behind Apple for a while before developing successful devices that looked less like iPhones, Samsung became the most important mobile device company not named Apple.
The magnitude of this success should not be underestimated. Below, we see a chart created by analyst Horace Dediu. It shows how much profit Samsung clears from "Telecom," which basically means phone sales. In the last quarter alone, they made more than 6 trillion won. That's billions of dollars.
Before the iPhone-like devices, their telecom business was an order of magnitude less profitable.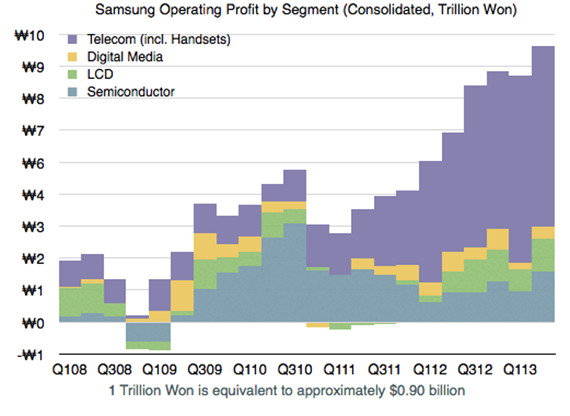 Could they have done it without infringement?
Maybe. But they didn't, at least according to the court.
And purely from a business perspective, you'd have to say that it all worked out anyway.