Why Are Gas Prices Falling?
The average gallon now runs an American $3.19, the lowest price since February 2011.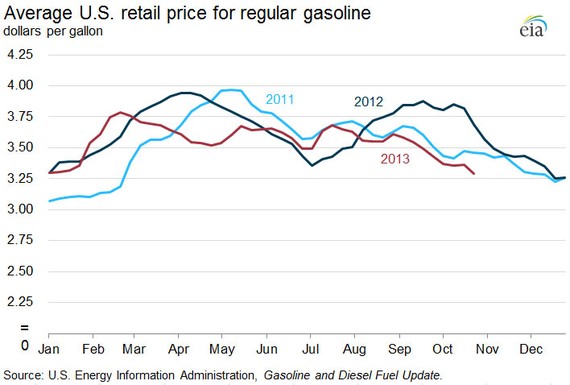 The price Americans pay for fuel at the pump has fallen to its lowest in more than then two years. At $3.19 per gallon, you can fill up a 12-gallon tank for less than $40.
So, what's going on? And will prices keep going down?
As Petroleum Goes, So Goes Gasoline
The Energy Information Administration estimate that more than 70 percent of what you pay for in a gallon of gasoline is the raw material from which its made: crude oil.
So, unsurprisingly, the chart for gasoline prices and the chart for petroleum prices look quite similar.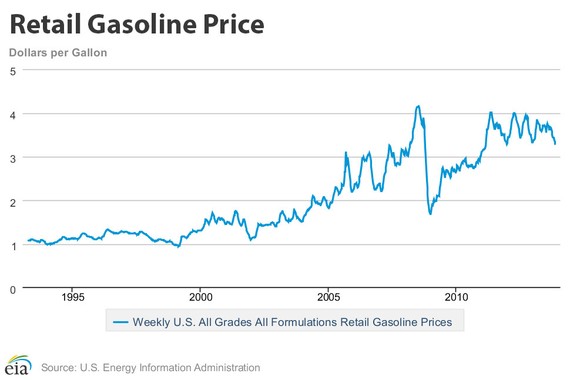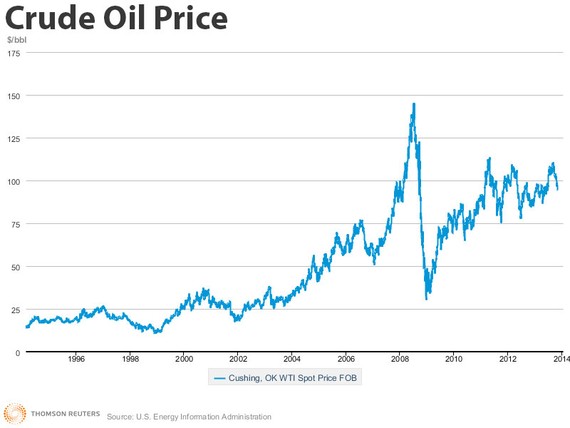 Since the spring of 2011, prices have been moving up and down in a tight band from $3.30 to $3.98 before the recent slide.
The spring of 2011, you may recall, was when the Arab Spring began. The complex international and intranational dynamics that set in motion may have pushed prices higher.
But they couldn't go too high because, at least here in the U.S., demand has softened. Americans are buying (slightly) more fuel-efficient cars, on average. And younger people are driving less.
Which is all a pretty rational response to the big run up in gas prices during the mid-2000s. As you can see from this April chart of vehicle miles and gas prices: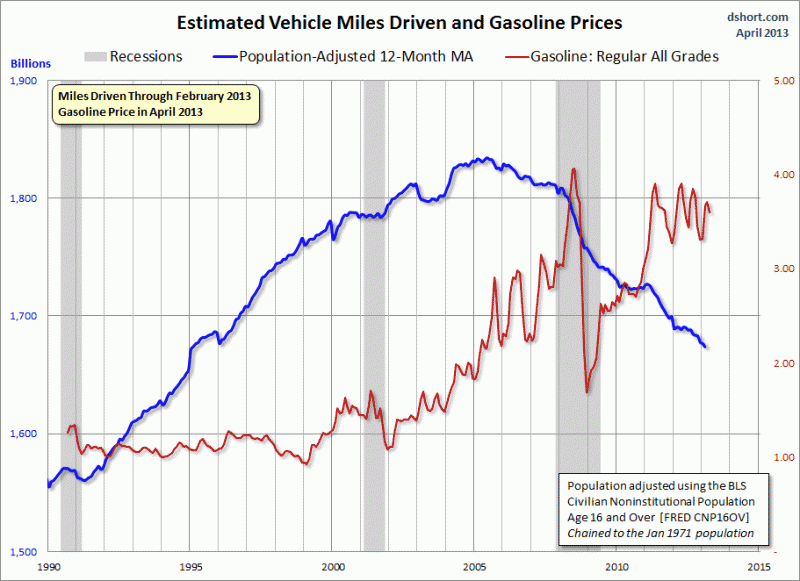 So, there may be some structural changes in American habits that put something of a ceiling on prices.
As for the most recent price drop, The Washington Post's Brad Plumer points to an intriguing refining market dynamic. Selling diesel abroad is very profitable, so they want to sell a lot of diesel. But when you make diesel, you also make other petroleum products like gasoline. In trying to exploit high diesel prices in Europe, they may be driving down gasoline prices in the States.
Many refiners in the Gulf Coast are taking advantage of the boom in shale-oil drilling in the Midwest and producing diesel for export to Europe and Asia. That's a lucrative business. And that refining process also leads to more gasoline for domestic consumption. So, as The Wall Street Journal reported, refiners can still make a profit from exporting diesel abroad even though they're creating a glut of gasoline here at home.
Will the price keep falling?
None of the long or short-term factors affecting the price of gasoline seem likely to move quickly. Certainly none that would push the price down rapidly. The safest bet is that gas prices will remain in their new range, somewhere above $3 a gallon but under $4.
The Energy Information Administration predicts an even tighter range over the next year. "The projected U.S. annual average regular gasoline retail price falls from $3.63 per gallon in 2012 to an average of $3.50 per gallon in 2013 and $3.39 per gallon in 2014," the EIA forecasts.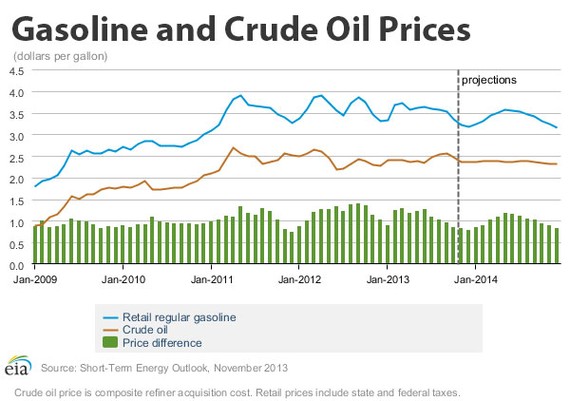 What about peak oil?
During the big run up in oil and gas prices that you can see in the charts above, some analysts contended that we were up against a geophysical limit on how much oil could be produced. It wasn't that we were running out of oil, but that we wouldn't be able to produce more, even if demand went up.
So far, however, that has not proven to be the case, as this International Energy Agency chart shows.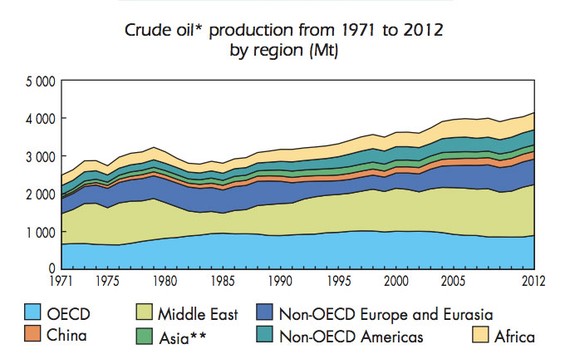 That said, oil is getting harder to find and extract, requiring greater and greater investments of time, money, and energy. That's why, despite the relatively sunny outlook in latest edition of the IEA's World Energy Outlook, the agency cautioned that the "new oil resources" do not "mean the world is on the verge of an era of oil abundance."