The price Americans pay for fuel at the pump has fallen to its lowest in more than then two years. At $3.19 per gallon, you can fill up a 12-gallon tank for less than $40. 
So, what's going on? And will prices keep going down?
As Petroleum Goes, So Goes Gasoline
The Energy Information Administration estimate that more than 70 percent of what you pay for in a gallon of gasoline is the raw material from which its made: crude oil. 
So, unsurprisingly, the chart for gasoline prices and the chart for petroleum prices look quite similar. 
Since the spring of 2011, prices have been moving up and down in a tight band from $3.30 to $3.98 before the recent slide. 
The spring of 2011, you may recall, was when the Arab Spring began. The complex international and intranational dynamics that set in motion may have pushed prices higher. 
But they couldn't go too high because, at least here in the U.S., demand has softened. Americans are buying (slightly) more fuel-efficient cars, on average. And younger people are driving less. 
Which is all a pretty rational response to the big run up in gas prices during the mid-2000s. As you can see from this April chart of vehicle miles and gas prices: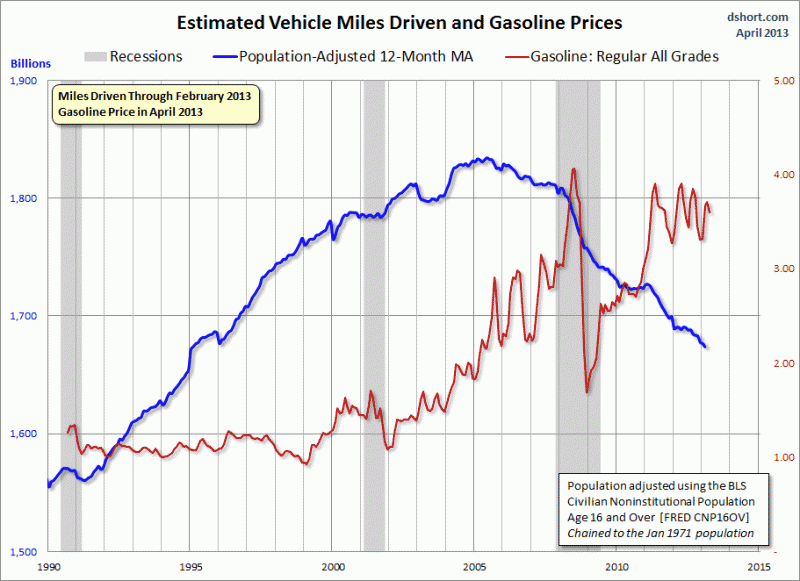 So, there may be some structural changes in American habits that put something of a ceiling on prices.