What Is the Worst? People Making Cell Phone Calls on Planes Is the Worst
The government may allow a travesty to befall air travel.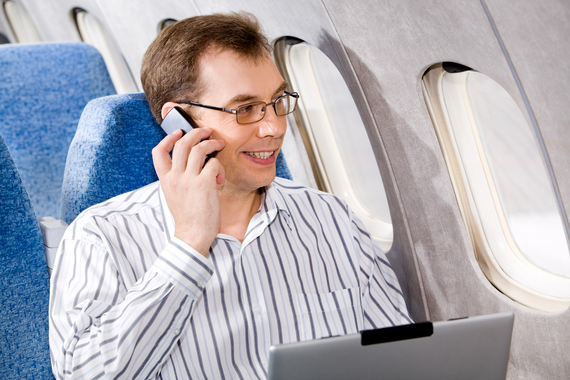 Last month, the Federal Communications Commission did something absolutely amazing. After years of prohibiting the use of electronics on aircraft, they finally allowed them. Tablets! Laptops! Kindles! Finally, as your plane slipped the surly bonds of Earth, you could touch the interface of your iPad.
However. Now the FCC has announced another change to this policy, and—warning—it is the worst. The regulatory body today proposed altering the rule prohibiting cell phone calls on planes.
That is: Soon, other people might be allowed to make cell phone calls on a plane. In the cabin.
In fact, making cell phone calls will be easy. If the FCC alters the rule, airlines will be allowed to install satellite repeaters in their planes, which will transmit voice signals to the ground. In other words, it won't just be possible to make cell phone calls in the air, it will be easy.
Terrible times call for terrible measures. So I turn now to the FCC and ask: Have you no dignity?
How long will you abuse us with this madness? How long will you mock us? Do you not realize that by creating an environment where tablets were permitted but not cell phone calls, you were creating a perfect place? Did you not see that we want to use our technology, but not—not for a moment—be bothered by people trying to reach us, demanding to reach us, by it? Do you not know, as the Bon Jovi Reunion Tour concertgoer knows, that Hell is other people making cell phone calls?
If this is what technology on flights entails, perhaps it is better to have no technology at all. Perhaps it is even worth it not to have planes. Sometimes a man must stand athwart history (and FCC regulatory changes), shouting "Hang up!"