What a Super Typhoon Looks Like, in 1 Terrifying GIF
Haiyan is headed toward the Philippines—and breaking pretty much every storm-categorizing scale in the process.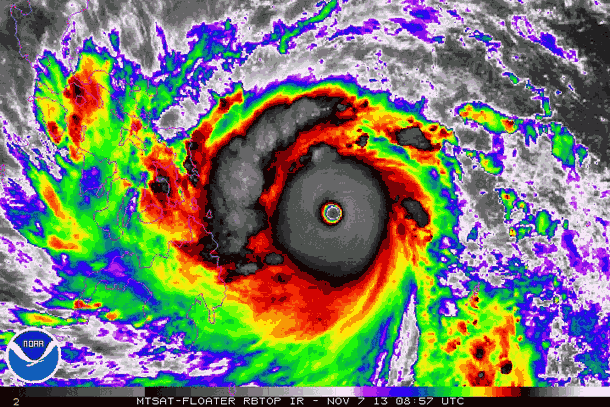 Sometime around midnight tonight—Friday morning local time—a super typhoon will hit the Philippines. The storm (called Haiyan here in the U.S., and Yolanda in the Philippines) has been gathering strength in the Pacific—so much strength, in fact, that the super typhoon, as the Washington Post sums it up, is "among the most intense storms to form on the planet in modern records."
Which ... ugh. Evacuations have been ordered in the Philippes, Quartz notes, and 10 regions in the center of the nation are now under a Signal 4 warning—the highest typhoon alert level for the most typhoon-pummeled country in the world. Heavy rains will likely also cause mudslides in the country's more mountainous regions.
For those of us who have the fortune and the frustration of watching the storm's movement from afar—via, for example, the nauseatingly colorful GIF above—it's worth noting that Haiyan is a super typhoon that is "super" in the worst way possible. Its superlatives—"most intense," "strongest"—suggest that our conventional means of measuring storms' strengths may need to be augmented for a new, and more turbulent, world. Haiyan's sustained winds are 190 mph, according to estimates from the Joint Typhoon Warning Center (JTWC) in Hawaii. Its gusts, however, have reached 230 mph. The storm has long surpassed Category 5 intensity, the highest we've yet defined for tropical cyclones like hurricanes and typhoons. As it traveled, Haiyan had scored an 8.0—officially, the highest possible number—on the satellite-based Dvorak intensity scale. Earlier today, however, it hit 8.1.
Our measures and scales (along with, of course, our more physical infrastructure) are ill-equipped to handle the strength of a storm like this. This is the new normal: another day, another storm that's off the charts.
Via @heyveronica