Wall Street's New Cash Cow: Your Roof
Home solar panels aren't just generating clean electricity; they're now asset-backed securities.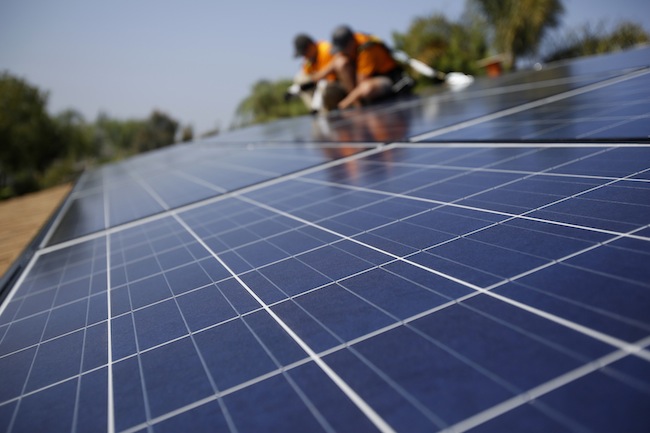 SolarCity raised $54.4 million this week. It didn't do it, though, by selling a lot of solar panels or stock. Instead, the Silicon Valley company bundled up a bunch of residential leases for the photovoltaic arrays it installed on suburban rooftops—and then sold them to pension funds, hedge funds, and other high-rolling investors.
Packaging leases for cars, ships, trains, and other big-ticket items into so-called asset-backed securities has been common for decades. But this marks the first time that solar has been securitized. SolarCity's move opens the door to a potentially large new pool of capital that could finance the expansion of renewable energy just as crucial federal tax incentives for green power are set to sunset in the coming years.
"You look at the market and it's huge," SolarCity chief financial officer Bob Kelly told me.
How huge? Kelly is already planning to sell $200 million more worth of solar securities in the first half of next year.
"The solar business is asset-intensive," Kelly says. "Every three minutes we make a sale. For a typical household, the cost is $21,000 to put a solar system on the roof. You need to increase your sources of capital and drive down the cost."
These days, most homeowners sign 20-year leases for solar panels to avoid such ownership costs, paying a monthly fee in exchange for the electricity the photovoltaic array generates. (Those payments are usually 10 percent to 15 percent lower than what the homeowners would pay their local utility.) Those lease deals generate a dependable source of cash that can be used, in turn, to pay off the notes sold to investors.
To date, companies like SolarCity, Sungevity, and SunRun have raised so-called tax equity funds to finance those leases. Banks and green-minded corporate investors like Google invest hundreds of millions into those funds so they can take advantage of a 30-percent federal tax credit for renewable energy projects. (Last May, for instance, Goldman Sachs put $500 million into a fund to finance SolarCity leases.)
But tax equity funds come with a cost. Kelly says the interest payments on those funds run in the 8-percent to 9-percent range. But SolarCity is paying investors a 4.8-percent rate on the securities it sold this week.
Kelly says it took some effort to get bankers and rating agencies not only to come onboard, but also to understand that what SolarCity is really selling is energy, not solar panels. Homeowners, he notes, are far more likely to pay their electricity bill than their car payment.
Standard & Poor's gave the bonds a mid-range BBB+ rating. Kelly expects to score a higher rating on future security offerings as the ratings agencies become more familiar and comfortable with the solar business.
The solar industry has been closely watching SolarCity's foray into securitization, and Kelly expects competitors to follow suit. "They really are going to have to do this to compete," Kelly says, "as the cost of capital is so important in a capital-intensive business."