Twitter Is Swarming With Robots and Haters and Maybe Some Advertisers
With perhaps as many as one-in-10 accounts run by spammers (according to a new study) and a healthy subculture bent on subversion, Twitter — finding a sudden need to turn users into advertiser dollars — wishes everyone would grow up.
This article is from the archive of our partner
.
With perhaps as many as one-in-10 accounts run by spammers (according to a new study) and a healthy subculture bent on subversion, Twitter — finding a sudden need to turn users into advertiser dollars —  wishes everyone would grow up.
Twitter is predicated on identity. By now, the service has evolved into something of a digital calling card, a compression of the once-in-vogue idea that people might eventually have a unique domain or blog. It's that — but simple, immediate, and exponential. People meet over Twitter, know each other by both the Twitter username and the contents of a Twitter feed — a streaming news ticker of someone's conscious. The media, identified by Twitter handle on TV chyrons, cite eyewitness testimony or feedback conveyed from anonymous people in 140 characters or less. Far more than Facebook, Twitter is a marker of identity — a self-description that evolves from what's shared, not in response to questions demanded from a bio page.
Anybody have a cheeseburger flavored chapstick I can borrow?

— Helper (@helper) November 24, 2013
Less than a month ago, the company that facilitates all of this went public on the New York Stock Exchange, insisting that they could figure out how to turn those identities into a benefit for advertisers. Its user base has grown steadily, the company (somewhat disingenuously) argued, meaning that there are now 250 million people each month waiting to hear from Oreo or Hamburger Helper.
Notice how that @helper tweet pretends that the hamburger-macaroni mix's mascot is itself a person. That little glove's lips get chapped, apparently. The beauty and drawback of Twitter is that adopting a persona is trivial, far moreso than on other social platforms. It's what makes Twitter easy to fall into, but it is also what makes the company's effort to go mainstream tricky.
First of all, that quarter-billion people who use the service each month is not all people or even anthropomorphic gloves. As The Wall Street Journal reported over the weekend, a healthy-and-unknown percentage of the system is infiltrated by spammers, that leverage the low barrier to entry and still-robust automated toolset (Twitter's application programming interface, or API) to churn out thousands of fake accounts, hoping to lure people into clicking exactly the sort of ads that Twitter hopes users will avoid. From the Journal:
Italian security researchers Andrea Stroppa and Carlo De Micheli say they found 20 million fake accounts for sale on Twitter this summer. That would amount to nearly 9% of Twitter's monthly active users. The Italian researchers also found software for sale that allows spammers to create unlimited fake accounts. The researchers decoded robot-programming software to reveal how easy it is for spammers to control the convincing fakes.
At The Atlantic, Alexis Madrigal dove into one instance of spammers using Twitter's API to push — of all things — a disreputable casting agency. One San Diego teenager was accidentally ensnared in the bots' network of follows, gaining over 9,000 fake followers in short order. Each of the fake accounts assumed the photograph, biography, and, the system's creators hoped, the follower pattern of a real person, so that their enticements to click on proffered links might be that much more enticing. In other words, the Twitter bots' goal is to seem indistinguishable from a human. Do a Twitter bots' lips not also get chapped?
*hugs girlfriend, gets on 1 knee* honey, would you *points up, fireworks spell out "LIKE A FREE IPAD?" she looks down& i'm holding a survey*

— LeVar Burzum (@drugleaf) February 18, 2012
The flip side of the cyborg invasion is that there is a large and influential community on the service that is specifically hoping to subvert the system for the sake of humor. This is the famous "weird Twitter," which the Journal (rather drily) covered back in August. It's impossible not to talk about weird Twitter in non-lame ways, so let's embrace it: It's Dada, Andy Kaufman. The instant weird Twitter is aware that it's being amusing, it shifts to mock itself in an effort to continue to be uncomfortable and, you know, weird. But the Journal's worry on Twitter's behalf is that weird Twitter — enjoyed by a large and uncountable part of the company's users — is specific about mocking the efforts of brands ("#brands") to entice people online.
When a fellow who uses the Twitter handle DudeHugs sends out a message to his 10,000 followers that reads, "Loving this all-natural Sierra Mist…RT if u have ever touched or seen a dog," he isn't trying to promote the soft-drink brand or trying to appeal to dog lovers.
Because, let's face it: Hamburger Helper's generally successful push to get people to pay attention to it on Twitter lays bare the complete ridiculousness of all advertising, the immediately self-evident insistence on being liked and enjoyed. Weird Twitter is the polar opposite of ads, doing everything possible to get you to laugh at how stupid it and Twitter and ads can be. Neither advertisers nor Twitter are very enthusiastic about that goal. Prompting Twitter to try and tackle the problem with more automation, an algorithm that looks for "insincere engagement," according to the Journal. An equation that knows DudeHugs is being a jerk and @Helper is somehow not.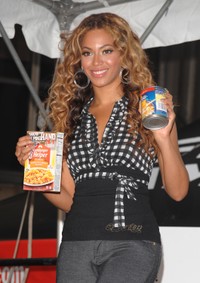 As Twitter and Facebook continue to spin around each other in the same orbit, drawing closer in function and aesthetic, Twitter enjoys an advantage that its competitor doesn't: Twitter was built on sharing everything and building relationships based on that. Facebook was built on using existing relationships as a guide for sharing specific things. Advertisers almost certainly prefer a structure under which users hope and dreams and #brand #interests are worn on their sleeves and not tucked away behind clunky privacy settings. But if 10 percent of the users are robot people impersonators and some other percentage are people doing their best to seem completely unlike humans, what are you supposed to tell advertisers?
There is some flexibility. On Monday, Twitter announced a partnership with Time magazine to solicit votes for the magazine's Person of the Year. In years past, that, too, has been awarded to non-humans. In 1982, the winner was "The Computer."
This article is from the archive of our partner The Wire.