This New Web IPO Didn't Go Quite as Well as Twitter's
Not all companies with a website will be valued quite like Twitter, Facebook, or Amazon.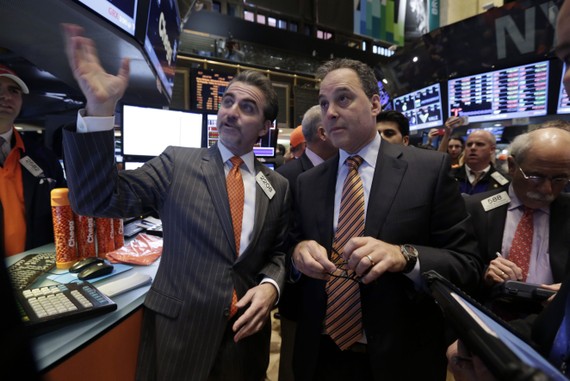 This morning, the online education company Chegg had its initial public offering. It's the first major Silicon Valley IPO since Twitter's last week, and expectations were high. Would its shares soar, as Twitter's have? The headlines are easy to write. Is the bubble back!?
As of just after noon Eastern, here is how Chegg's share price has done:

Look at that initial drop. Yeesh.
Chegg aimed to raise $187.5 million in its IPO today. Yesterday, it set its price at $12.50 per share. Traders expected its shares to be priced more than a dollar lower—somewhere between $9.50 and $11.50—and, when Chegg stock started trading this morning, the market corrected. After losing almost a quarter of its value, prices went back up. At publication, Chegg was trading at around $10.25, some 18 percent below its initial share price.
By the time you read this, its price might have fluctuated again. But it won't have moved like Twitter, which, after being priced at $26 a share, immediately leapt in trading to $46 per share. Now, almost a week after its IPO, a single share of Twitter stock costs around $42. Chegg didn't act like that.
There are some reasons why. Here's maybe the biggest: Chegg says it doesn't expect to turn a profit for a long time.
Chegg's also an odd company. Ostensibly in education technology, Chegg got its start at Iowa State University in 2005 renting used textbooks to students. It launched an online version of that business in 2007, and textbook rental is still what it still does best and what many people know it for. You need to use a textbook for a semester, you rent it from Chegg. This is how it makes money.
If you looking for a comparison, one might be: It's the Netflix of textbooks. As in, the old Netflix. The one that sent you DVDs in the mail.
Chegg's now trying to become more like the new Netflix. It was trying to sell e-textbooks before Apple got involved in the market. And its CEO since 2010 Dan Rosensweig, previously Guitar Hero's CEO and Yahoo's chief operating officer. has gotten it involved in a number of different businesses, too. It offers online, 24/7 study help. It supplies textbooks under copyright for MOOCs, who could before only use texts in the public domain.
Why? Because renting textbooks through the mail gets really expensive. As Chegg says in its S-1, one of the documents it filed with the Securities and Exchange Commission before going public:
Our print textbook rental business is highly capital intensive. While we generate positive cash flows from operations on an annual basis, this has been more than offset by the cash we use for our investing activities, primarily due to the purchase of print textbooks. We expect this trend to continue in the foreseeable future.
So it's diversifying, and hoping to cast these disparate enterprises into a sort of "OS for students," a unified website that offers a student any service they might need for school. I'm skeptical of this strategy: I tend to believe students, already buffeted by hulking enterprise offerings like Blackboard and whatever-scheduling-software-their-college-uses, would do better with programs designed for smaller, more specific needs. I'm also unsure a student would make a single website their "portal" for any one thing. For success like that, you need to turn a website into a habit—and none of Chegg's offering seem to justify that kind of obsession quite yet.
They'll be an interesting company to watch, this public education technology start-up trying to rid itself of its best-known business—and their IPO this morning seems to show that, even if your company involves a website, you can't bet on Twitter-like returns.