'The Online Image Is Deathless'
Collage, Pinterest, and poison in today's 5 Intriguing Things.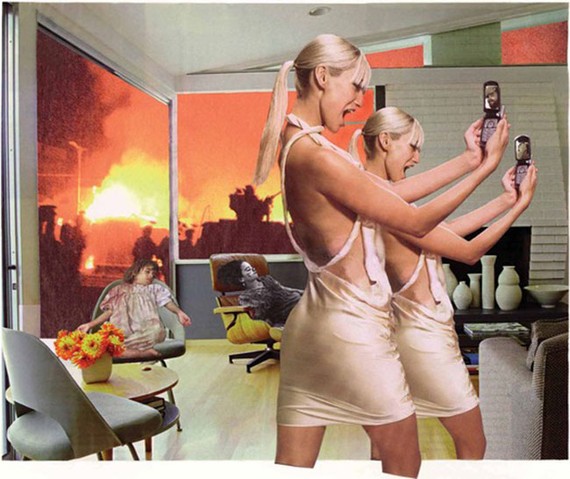 1. Why cutting and pasting doesn't provide the satisfaction of gluepaperscissors collage.
"It was possible to mutilate and mutate the spectacle. Though one can collage the online image, or Photoshop it, the mutilated copy is never there, and one never sees the dismembered corpse of the source material. The online image is deathless, forever available and forever pristine. I think this deprives one of a good deal of the pleasure and excitement of the cut."
2. The neuroscientist who thinks consciousness exists in all networks with a certain internal structure... like the Internet, perhaps.
"It's not that any physical system has consciousness. A black hole, a heap of sand, a bunch of isolated neurons in a dish, they're not integrated. They have no consciousness. But complex systems do. And how much consciousness they have depends on how many connections they have and how they're wired up."
3. Cachemonet, a mesmerizing bricolage thing.
"The arrays contain a mix of custom and found .gifs sourced from tumblr... The output is autonomous, generative, art made possible through curation & code.
4. Pinterest decomposes web pages into their constituent objects. Their data describe a collage, say, of the most popular pictures on Walmart.com.
"Pinterest said today that its first API will help stores and brands display which of their items were most frequently and recently pinned... Next, Pinterest said, it will give sites more ways to mash up their data, like most-recent and related pins, and adding information about which items and keywords are trending on Pinterest into their search engines."
"Immunity to poison also has its surprises. The manchineel tree from the same Colombian forest, we learn, has crab-apple-size fruits that can swell the throat so breathing becomes nearly impossible; its sap can cause temporary blindness; even rainwater dripping from the leaves makes the skin blister. Manchineel sap poisoned the arrow shot at the Spanish explorer Juan Ponce de León after he landed on the coast of Florida in 1521; he died 'in agony within days.' Yet iguanas happily sleep in the tree's branches and eat its fruit."